"The attempt to balance opposites has been the real subject of my work for many years. Then there's the desire to give each image a unique signature, which leads to stylistic leaps and the juxtaposition of elements that appear to be aesthetically incompatible," says artist Roman Scheidl about his work.

After many years of self-doubt, Scheidl came to accept his own multiplicity with the help of the legendary curator and director of Kunsthalle Bern, Harald Szeemann (1933–2005). As Scheidl says: "He did the exhibition Der Hang zum Gesamtkunstwerk with Kurt Schwitters, Anselm Kiefer and many others. From that exhibition onwards, I knew where I belonged – and that artistic disciplines have no borders."

Since then, everything has had a place in Scheidl's work: the abstract, the figural and the narrative. He oscillates back and forth in a creative exchange between two apparently opposing poles, Indian ink drawing and oil painting.


In his Indian ink drawings, he demonstrates an extraordinary mastery of brushstrokes. The universe's own breathing accompanies his lines, creating images that appear to be moving. Dance often plays an important role, and the abstract shorthand symbols in his drawings hover around floating elements like little narratives.

In his oil paintings, on the other hand, Scheidl follows in the European tradition, though his themes are mostly of a poetic and philosophical nature. Portraying movement and light, nature and space, the narrative and the abstract have long been central themes.

With his persistent search for a link between figural, narrative and informal composition, Roman Scheidl occupies a special place in Austrian contemporary art, which has been reflected since the 1970s by regular exhibitions in cities such as Paris, New York, Tokyo and Stockholm, as well as Vienna (1976, 1983 and 2008 in the Albertina). An "Austrian citizen of the world", influenced by both Far Eastern philosophers and Josef Beuys, Scheidl had studios in Switzerland and Paris, and creates pictures as a means of understanding the world. His chosen themes are mostly poetic and philosophical, of an existential nature, so that they speak deeply and movingly to the archetypal within us.

Roman Scheidl also champions pluralism in art, and lives up to this aspiration in his own creative practice. For many years he and artist Katharina Puschnig have worked together under the name of TATAMU Café on stage as well as for film and television. From 2001 to 2017, Puschnig and Scheidl's productions could be seen in Austria, Germany, Sweden, Switzerland and Japan. Furthermore, since 2004 they have produced more than 100 animated cartoons for ORF and the Bavarian cultural channel BR-alpha, as well as making seven animated cartoons for Tyrolean film company KARI-Film in 2015 and 2016.

"Art has long since become a way of life for Roman Scheidl. He uses it to express himself, to find life's explanatory patterns, which, at the same time, can never be exhausted. He still uses very differing methods and avenues of approach. By working simultaneously with performance (live drawing), drawing, painting, ceramics, film, theatre and poetry, he has created a richly varied oeuvre, which is impossible to define or classify as one thing. Drawn to one thing, leaving behind another, constantly moving on to the next results in a dynamic that could be seen as Taoist, one that prefers to focus on the journey rather than setting any specific goal." (Günther Holler-Schuster)
Four Freedoms - Birth, Thought, Action, Love
The Friends (Philosophers 2)
Fire Under the Ice - Winter
The Stream of Time - Spring
The Spirits I Summoned - Summer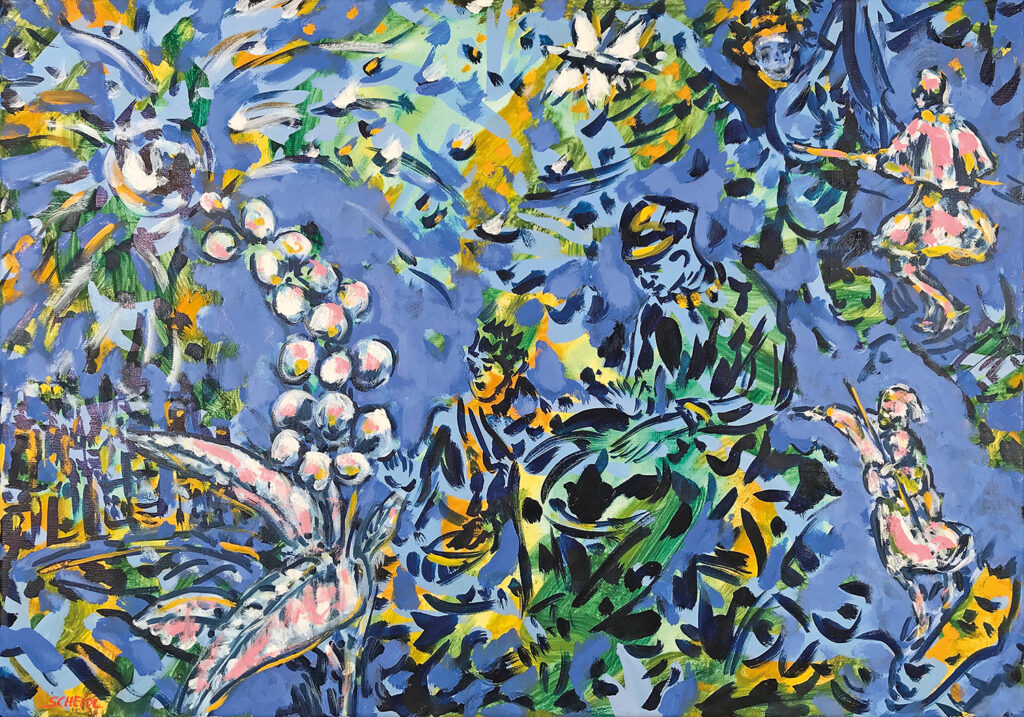 Oil on canvas
signed, verso inscribed and dated 2019/2022
WVZ-Nr. 20-19/05, 70 x 100 cm
Four Freedoms - Birth, Thought, Action, Love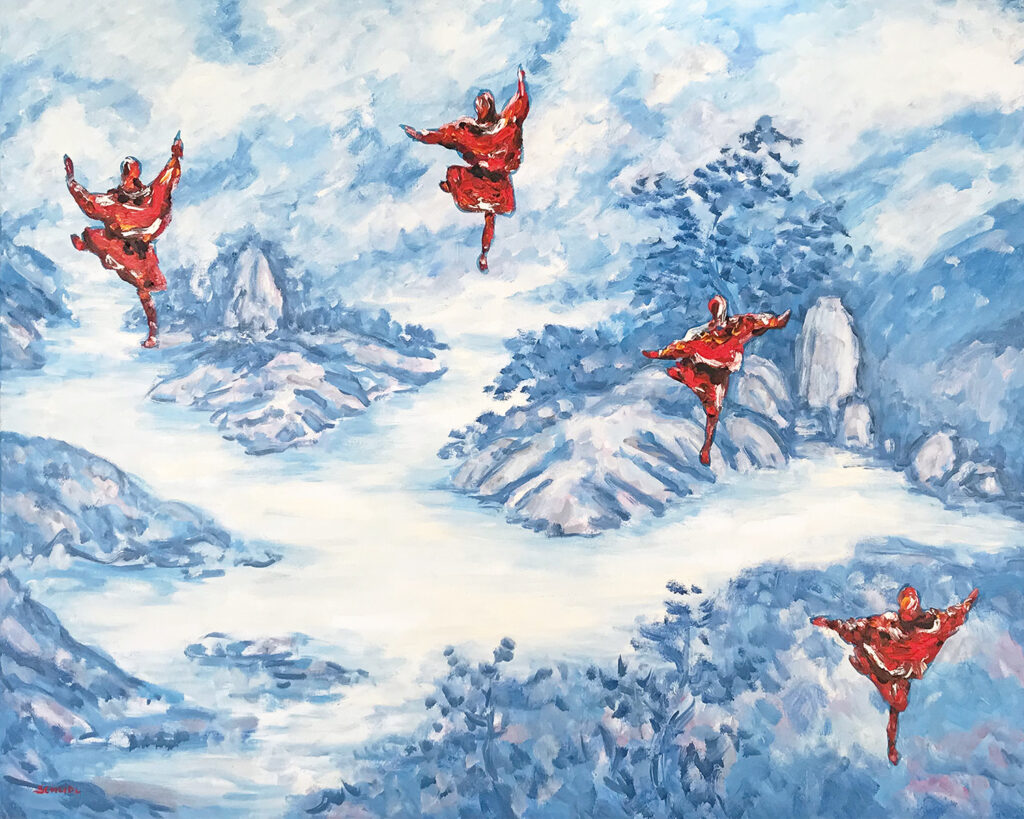 Oil on canvas
verso signed, inscribed and dated 2015
WVZ 20-15/32, 120 x 150 cm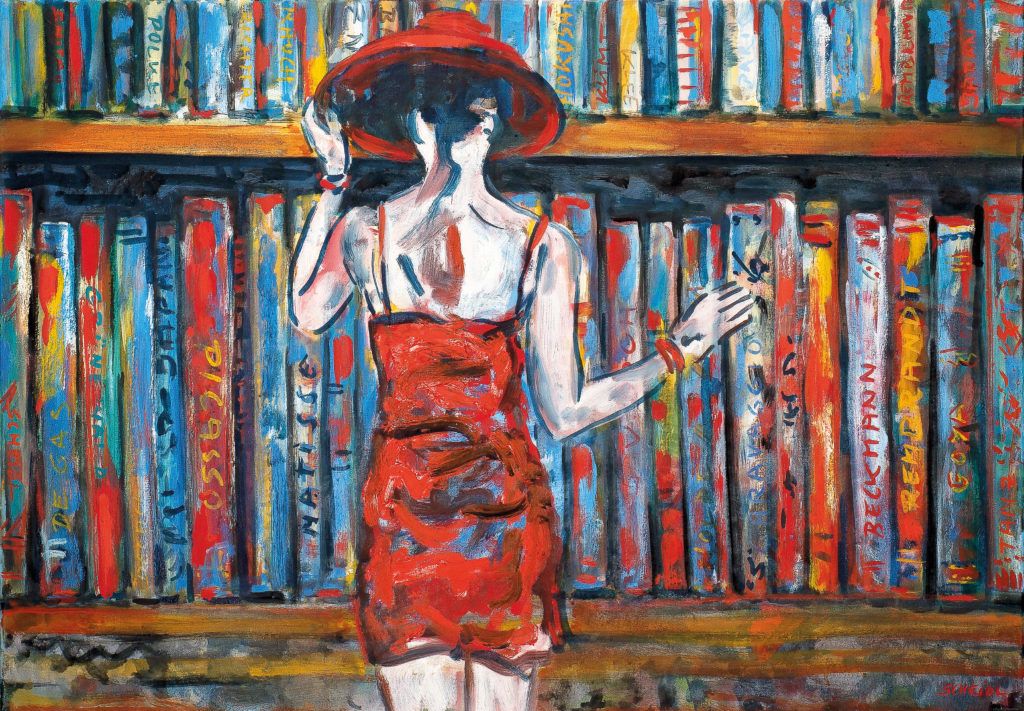 Oil on canvas
signed, verso inscribed and dated
WVZ-Nr. 20-18/02, 70 x 100 cm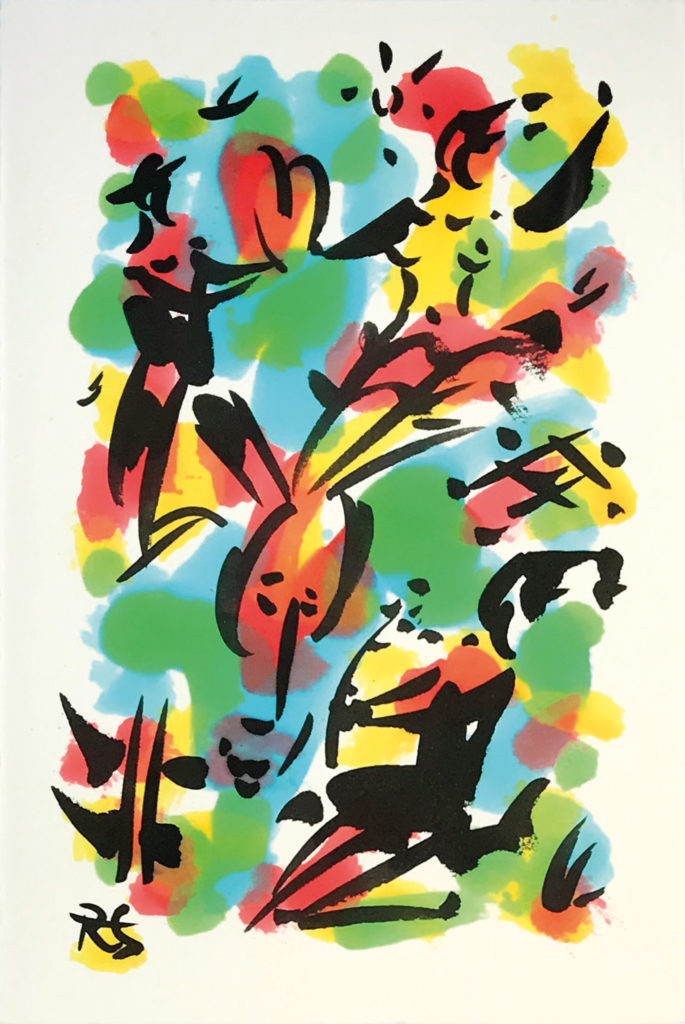 Alcohol / Japanese ink
monogrammed, verso inscribed and dated 2021
30 x 20 cm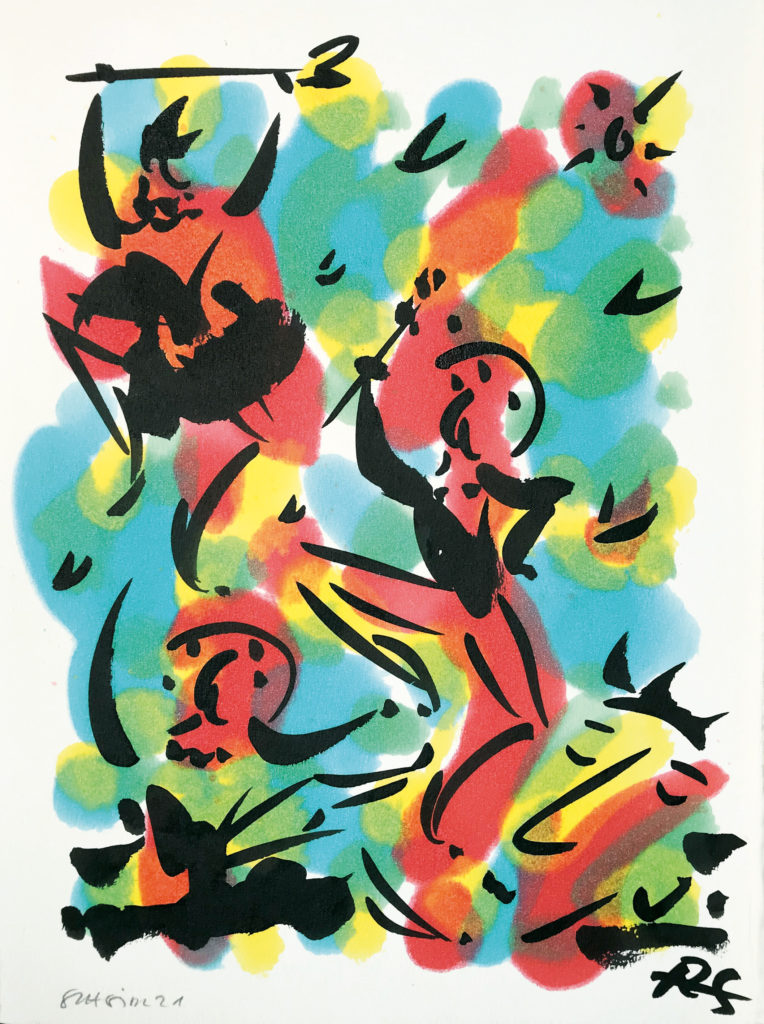 Alcohol / Japanese ink
monogrammed, verso inscribed and dated 2021
40 x 30 cm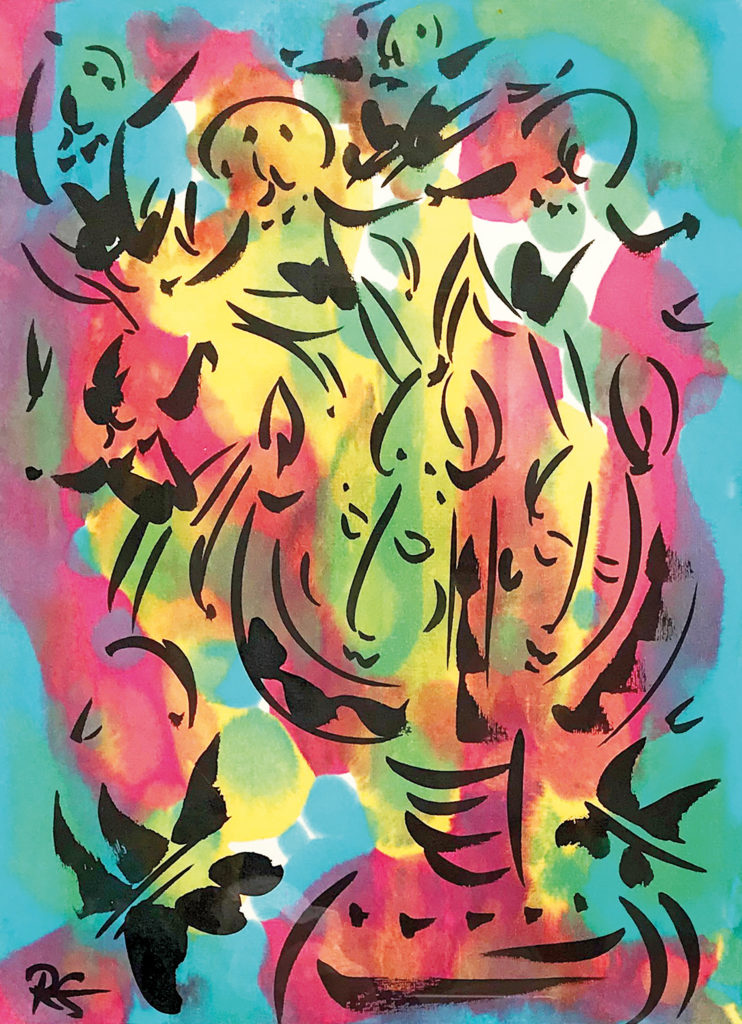 Alcohol / Japanese ink
monogrammed, verso inscribed and dated 2021
40 x 30 cm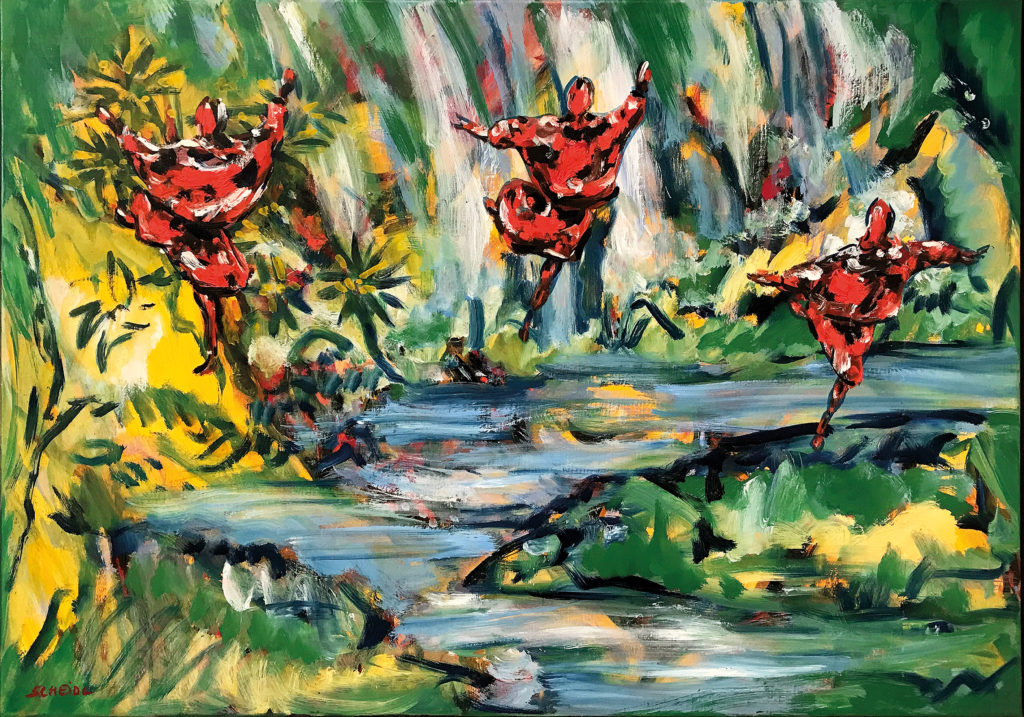 Oil on canvas
signed, verso inscribed and dated 2019
WVZ-Nr. 20-19/06, 70 x 100 cm
The Friends (Philosophers 2)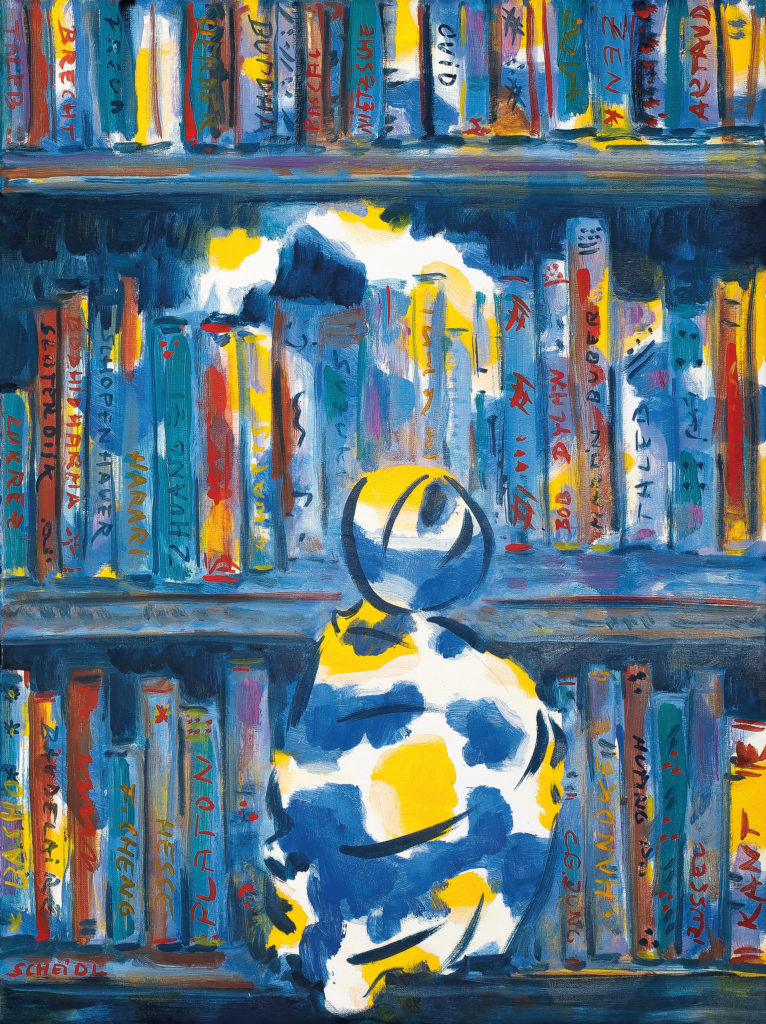 Oil on canvas
signed, verso inscribed and dated 2020
WVZ-Nr. 20-20/15, 80 x 60 cm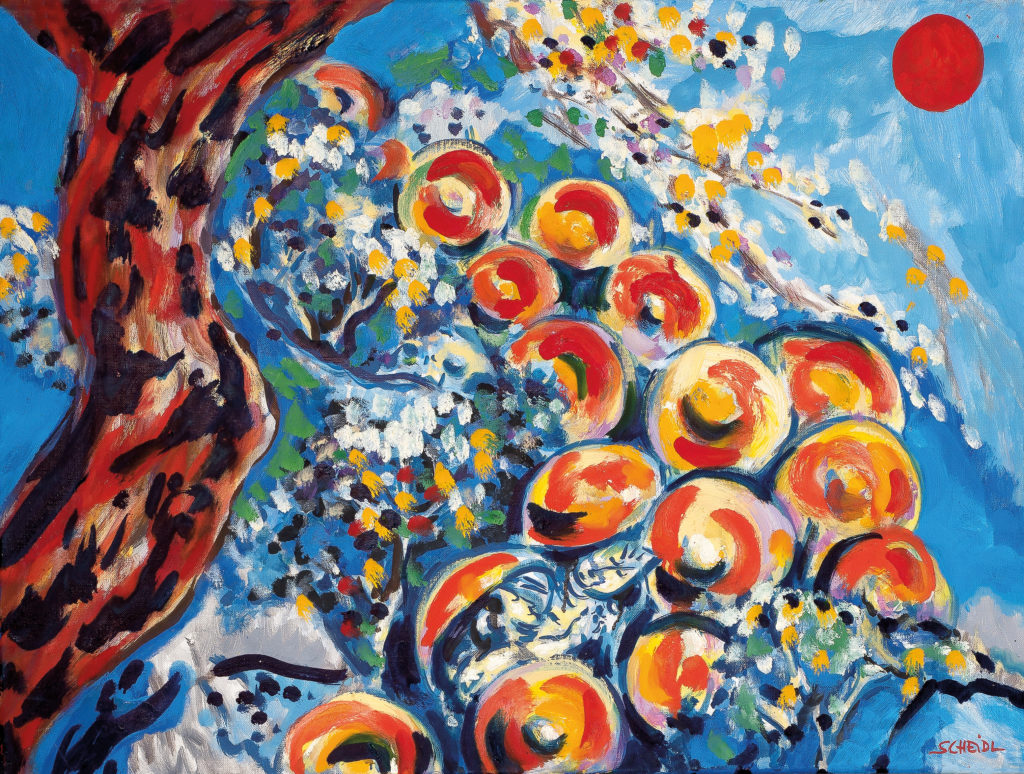 Oil on canvas
signed, verso inscribed and dated 2016
WVZ-Nr. 20-16/33, 60 x 80 cm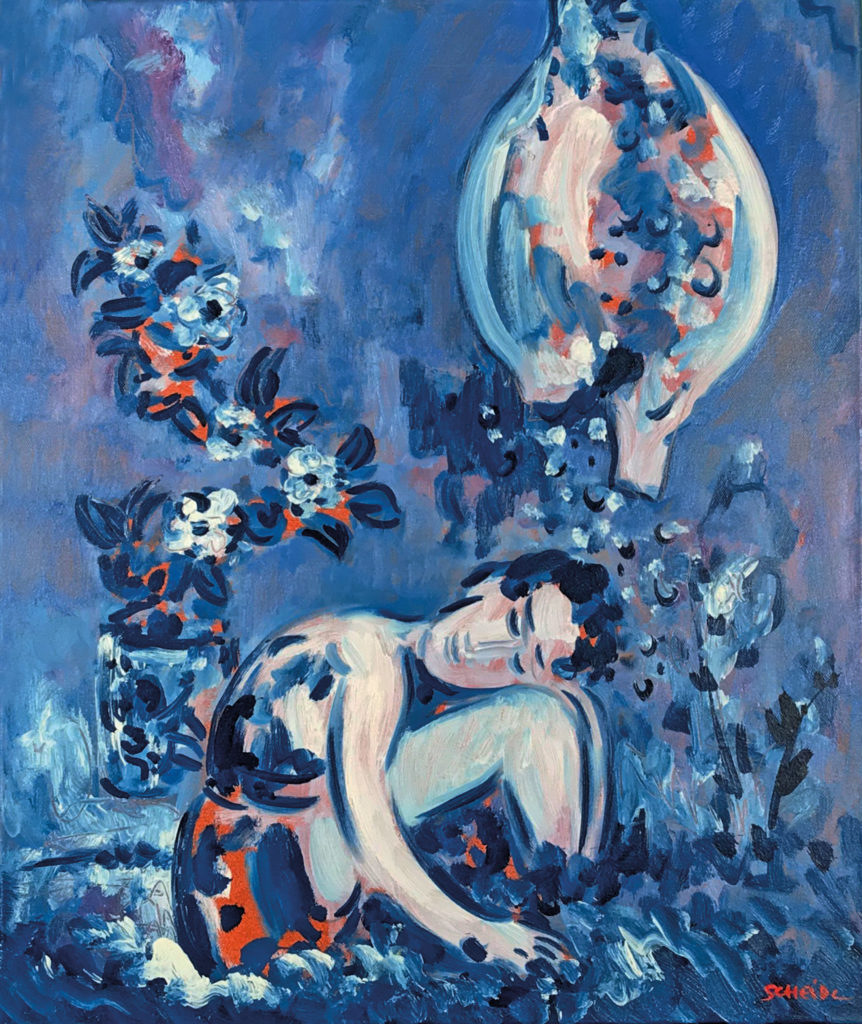 Oil on canvas
signed, verso inscribed and dated 2009
WVZ-Nr. 20-09/19, 60 x 50 cm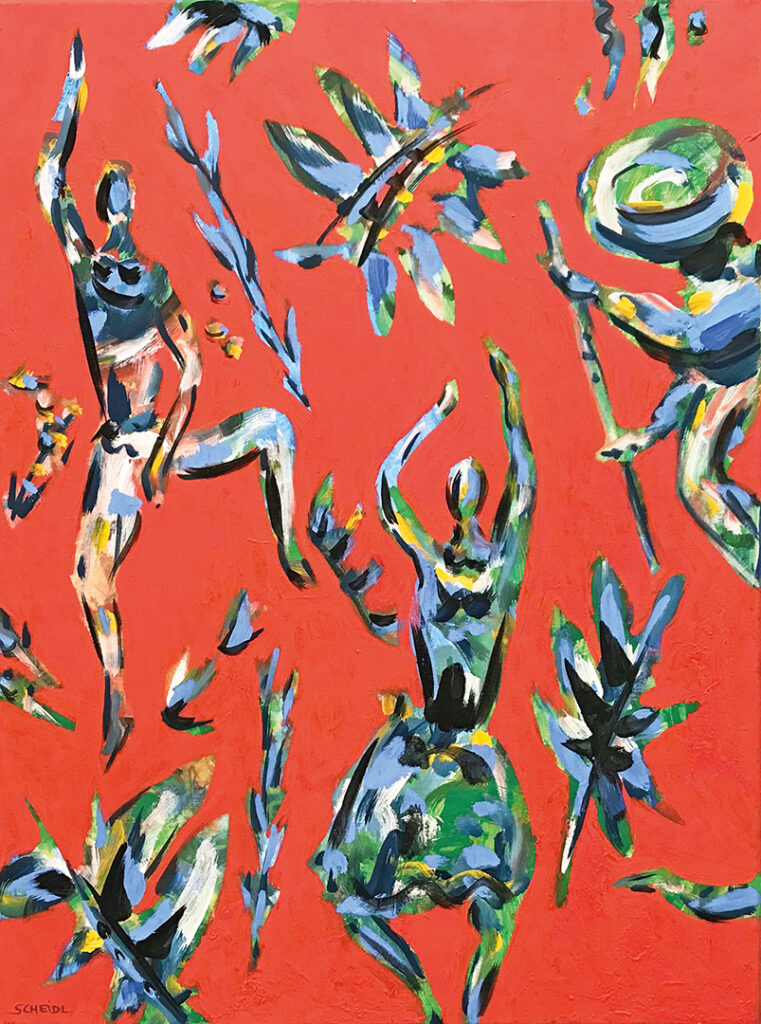 Oil on canvas
signed, verso inscribed and dated 2022
WVZ-Nr. 20-22/1, 80 x 60 cm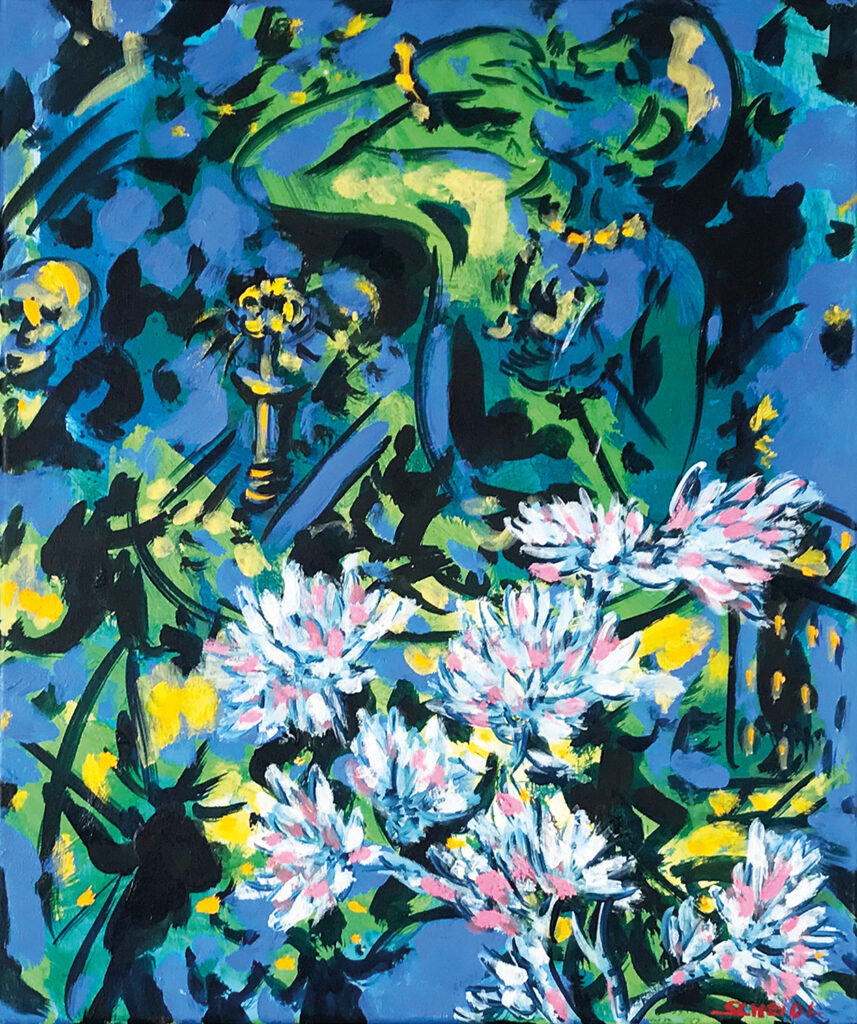 Oil on canvas
signed, verso inscribed and dated 2023
WVZ 20-23/01, 60 x 50 cm
Fire Under the Ice - Winter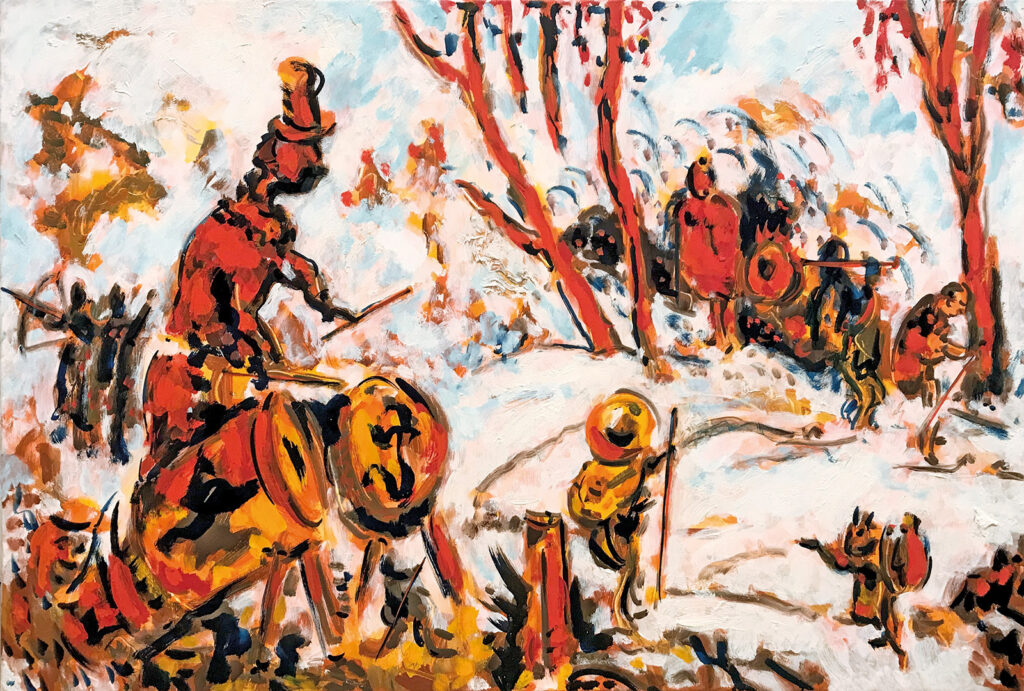 Oil on canvas
signed, verso inscribed and dated 2021
WVZ-Nr. 20-21/12, 80 x 120 cm

The Stream of Time - Spring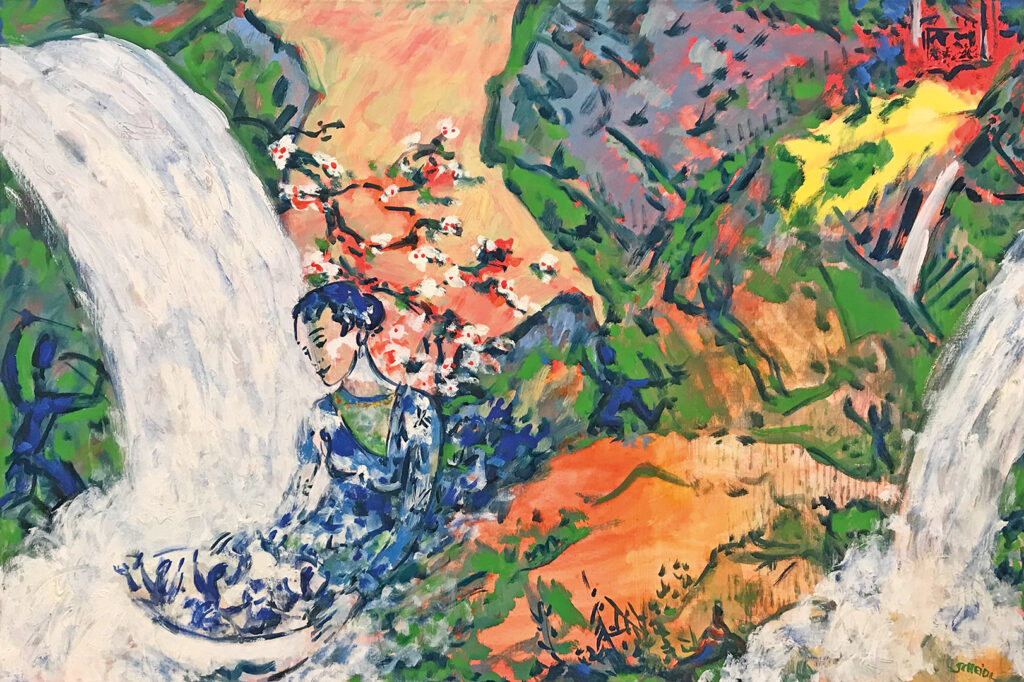 Oil on canvas
signed, verso inscribed and dated 2021
WVZ-Nr. 20-21/14, 80 x 120 cm
The Spirits I Summoned - Summer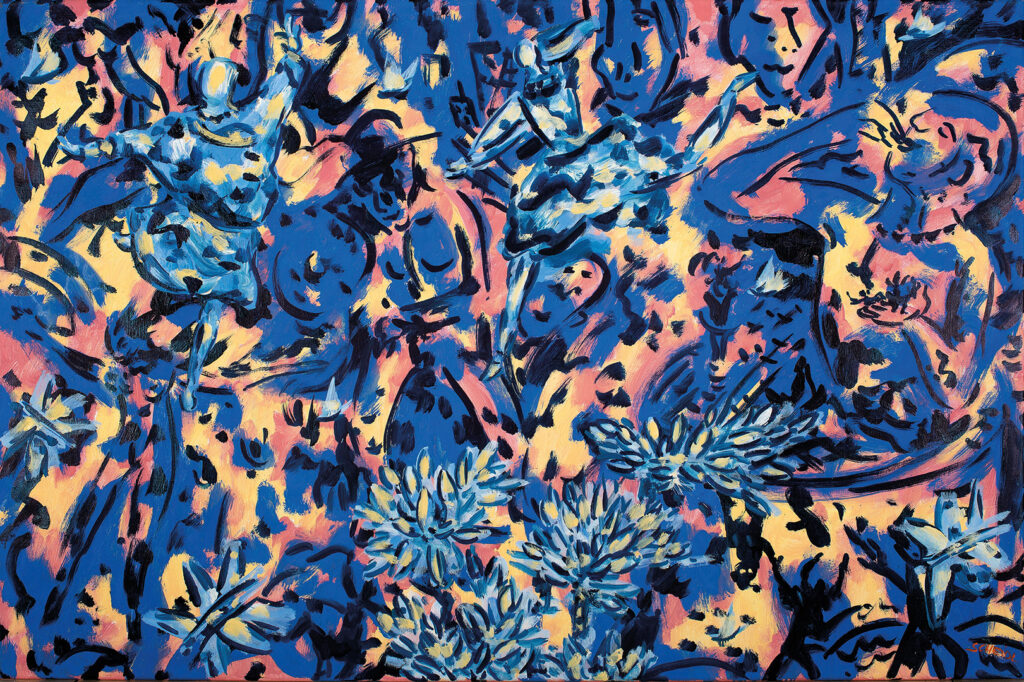 Oil on canvas
signed, verso inscribed and dated 2021
WVZ-Nr. 20-21/13, 80 x 120 cm