Pfaffenberg 1927 – 2015 Vienna
Franz Grabmayr belongs to the post-war generation of Austrian painters who saw themselves challenged with re-establishing the discipline of painting. He studied at the Academy of Fine Arts in Vienna under Robin Christian Andersen and Herbert Boeckl, so it may not be entirely surprising that he became a representative link in the chain of characteristically Austrian Expressionism. Grabmayr's true significance, however, lies in the radical break he made with his artistic heritage.

It would, however, be wrong to say that his overcoming of this Boeckl-esque legacy was a simple break with tradition. Instead, Franz Grabmayr developed his practice over several decades with an almost unparalleled and unflagging persistence. It was from exactly this unusual tenacity that he transformed object-focused Expressionism into something qualitatively new, becoming one of the most pronounced and original material artists of the contemporary period. This metamorphosis occurred subtly, not in great leaps; slowly and steadily, in keeping with his character.


Grabmayr's oeuvre combines mainly abstract painting with vividly specific titles. Objects and nature were of such great importance to him that he saw simply numbering or labelling a picture "untitled" as a nominal betrayal of real streams, cliffs, haystacks, tree stumps and dancers. And even if motifs, themes and subjects are more sensed than seen in most of his paintings, the impulse behind each work is not so subsumed by the artistic process that we cannot recognise certain moods or the energy and power flowing through the scene. As an artist who studied and observed nature with something approaching fanaticism, his works reveal the four elements: earth, fire, wind and water – the "power of the living", as Franz Grabmayr put it.

This deep connection to the natural world stemmed partly from a childhood spent in Carinthia, but also from his choice of abode later in life: beginning in 1964, Grabmayr worked in total isolation in the half-ruined Renaissance castle of Rosenau, almost literally cut off from civilization in that the building had no electricity or running water. In 1966, he began to create his famous "Sandpit Pictures" here. In 1972, he and his family moved to an old farm near Zwettl, which opened up a whole new world of motifs: alongside the "Sandpit" we now see "Felsen im Kamp" ("Rock in the Kamp"), which features water as a moving element in contrast with still and heavy stone. Here, Grabmayr's creative practice put in place a development that had taken almost half a century, from Impressionism to Fauvism and early Expressionism: granting colour its independence, liberating it from a mere functional role in the image.

This recognition that colour was a fundamental element of painting, not just because of its tones but even as a material itself, culminated in Gauguin's famous proclamation: "Pure colour. One must sacrifice everything to it." Franz Grabmayr's paintings clearly show this autonomous aesthetic of colour and material, which also influenced the meaning of his works and the framework within which they were received. In Grabmayr's view, his paintings can claim to be more than mere portrayals, but instead beings that are equal to their real counterparts. Whatever he presents in his works, it evades any kind of visual comparison with what it is modelled on. Canvas and colour become mediums of creation rather than presentation; original experience is given an aesthetic shape. And even if Grabmayr did made the outlines of his subject unmistakeably clear, the internal make-up of each picture so deliberately shapes the surface of the work that colour becomes a material in its own right. In doing this, Grabmayr took the last step towards a new painting aesthetic, becoming one of the best and most important representatives of a style that stood out in its vivid handling of colour pigment.

Although the Viennese Actionists were working at the same time and predominantly interested in destroying form, Grabmayr's material paintings were always kept in check by his desire to make the energy and dynamic of sensation visible. Grabmayr worked from intuition. He needed expressive subjects for impulse and orientation, as a guideline and benchmark. When painting, he worked himself into a kind of ecstasy in which he identified with the wildness of his subjects and pitted his own strength against the force of nature – no matter whether it came in the form of fiery sparks or fast-flowing water.

It is this highly explosive energy drawn from the act of painting, combined with colour pigment, that leaves its mark on the canvas and makes Franz Grabmayr stand out from all the other artists who took the materiality of colour as their most important medium for expression.

Grabmayr also recognized the gravitational pull of his pastose layers of colour, which cooled and froze in place like lava; he deliberately made use of distortion and multiple layers. It required a lot of experience to give colour its own life while not allowing it to descend into unformed chaos. As much as coincidence might play a role in this, it does so only within the parameters set by the artist.

In contrast to his quite literally "weighty" oil paintings, Grabmayr used watercolours to create his best portraits of women dancing wild and free. Most of these dancer paintings were created in winter, in the private surroundings of a well-heated Viennese studio. Anyone looking at these pictures will also find the dance of the elements within them: fire and air. Here, we see the expressive movements of three-dimensional, mortal bodies transformed into immaterial, rhythmic energy – a transformation of the material plane into the spiritual.
Sunrise Over The Stone Quarry
Sunrise Over The Stone Quarry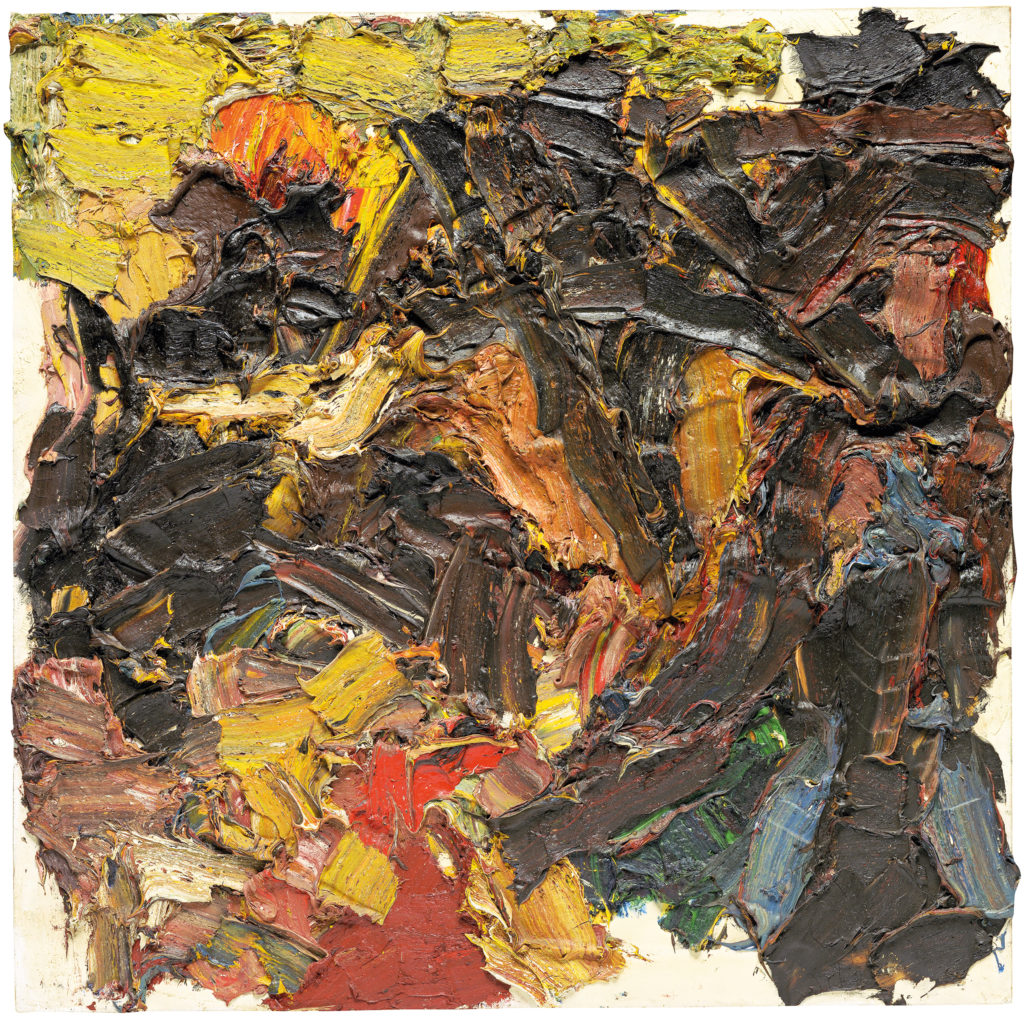 Oil on canvas
verso signed and dated 2004
118 x 118 cm