Born in 1939 in Celje, Slovenia, as Karl Julius Prelog, the artist moved with his family in 1944 to Upper Styria, Austria. He attended the University of Applied Arts in Graz (Decorative Painting faculty) and in 1958 adopted the name Drago in a nod to his South Slavic roots. He studied at the Academy of Fine Arts in Vienna for seven semesters, from 1958 to 1962, during which time he was taught by Professor Albert Paris Gütersloh, but deliberately chose to end his studies without receiving a diploma. 1959 marked the beginning of his exhibition career, over the course of which his work has been displayed in hundreds of solo and group exhibitions both in Austria and abroad. From 1969 to 1979 he taught painting, and from 1974 to 1997 lettering and typeface design, at the Academy of Fine Arts.

Drago Julius Prelog didn't draw symbols; he created them. His work is characterized by the relationship between the narrative centre and edges of his paintings, as well as ritual elements and a pronounced pictographic visual concept. In his early works (1959), bundles formed of lines unravel themselves from the centre of the canvas towards its edges. In the typographical works that followed, the image was spread across the entire canvas, the focal points in its composition now replaced by structure and rhythm. In his "Skin and Bark Pictures", crusts of paint jut out towards the viewer. Between these lie series of works such as the "Mountain, St Stephen's and Profile Pictures", which are not in any way to be viewed as conventional portraits, but as pictograms. Prelog's years-long engagement with lettering, necessitated by his teaching, eventually led him to develop the "personal alphabet" as a pictorial subject.
The artist himself described the birth of his famous circulation paintings as follows: "On 18 May 1977 I arrived at my studio with an empty mind. In the middle of the room was a large wooden board, propped on two flexible blocks, with a large piece of white paper on top. With a pen in each hand, I started casually swinging my arms to make abstract lines at the bottom of the paper – next to each other, on top of one another, through one another. My ecstasy growing, I moved back and forth, eventually coming to the right-hand edge of the paper. I spontaneously continued drawing from the right side to the upper edge, and suddenly realized that none of the four sides was preferable. All four were objectively equal! And so I continued working on the top edge and moved down through the fourth corner to the side on which I had begun. In the middle, there was an area that was magically empty and white. That was the birth of my circulation pictures. I immediately saw that these works could be seen as pictorial traces, as the result of ritualized actions." These circulation paintings are an expression of Prelog's empathetic sensitivity and, at the same time, his constant striving to unite freedom and order.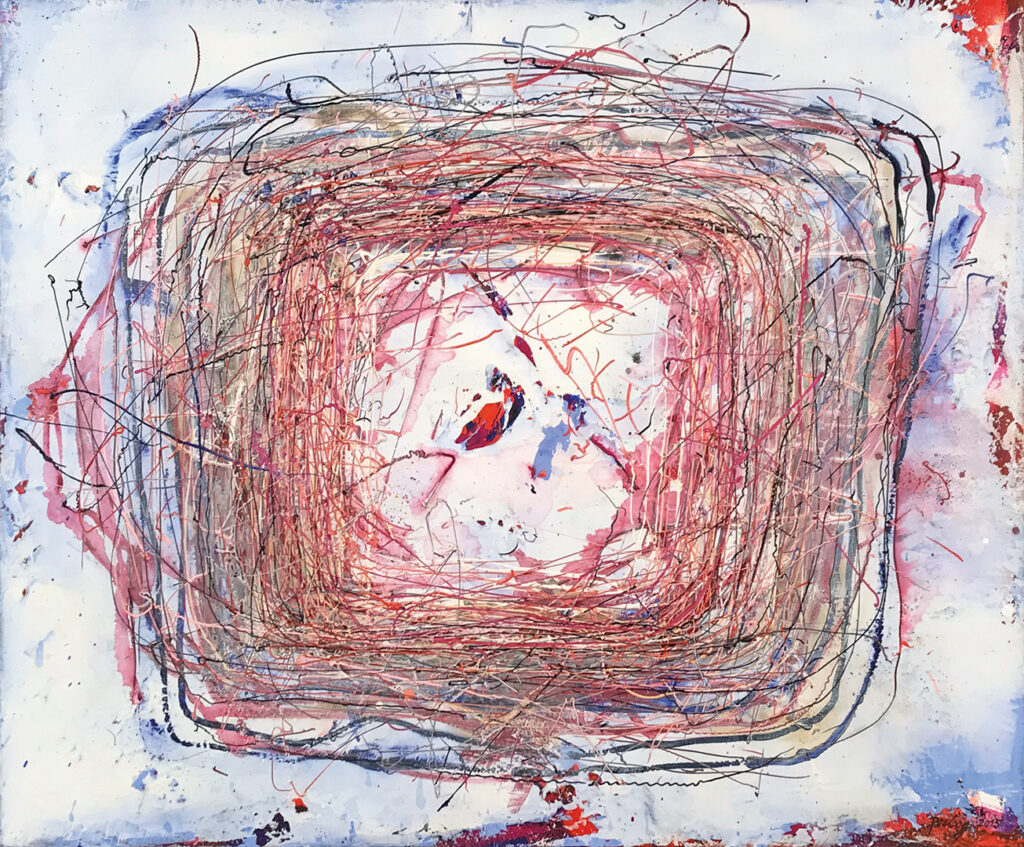 Acrylic on canvas
signed and dated 2015, verso inscribed
90 x 110 cm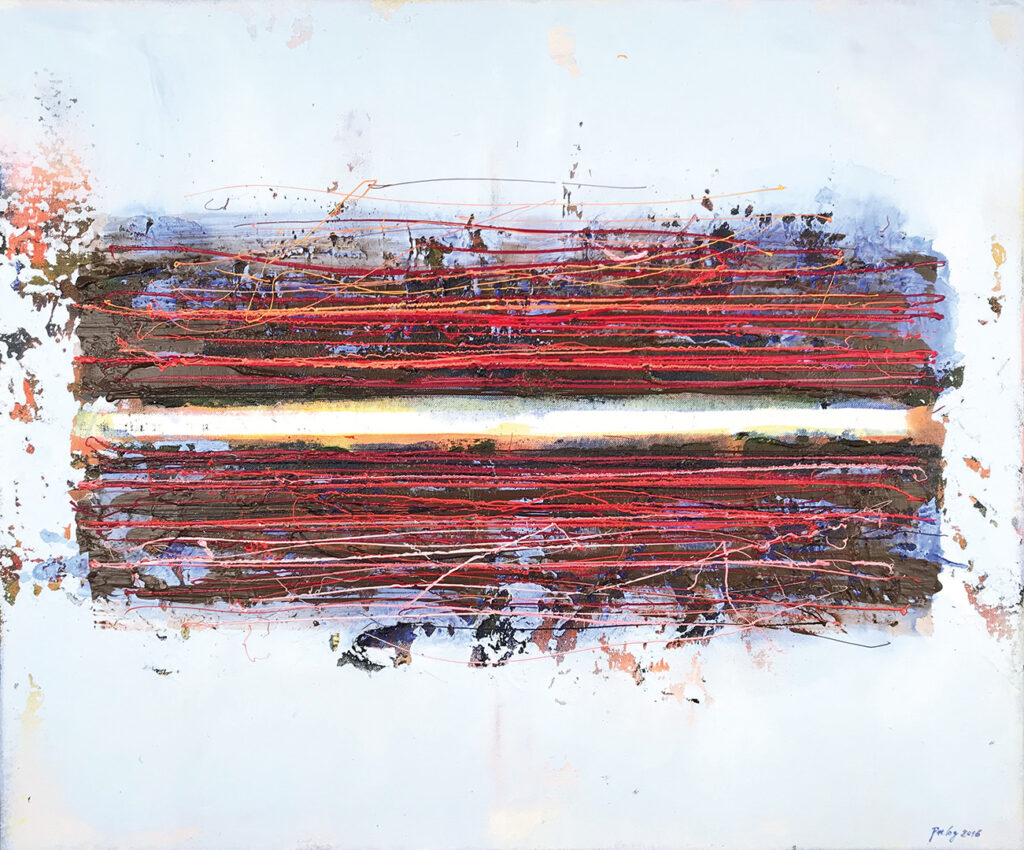 Acrylic on canvas
signed and dated 2016
90 x 115 cm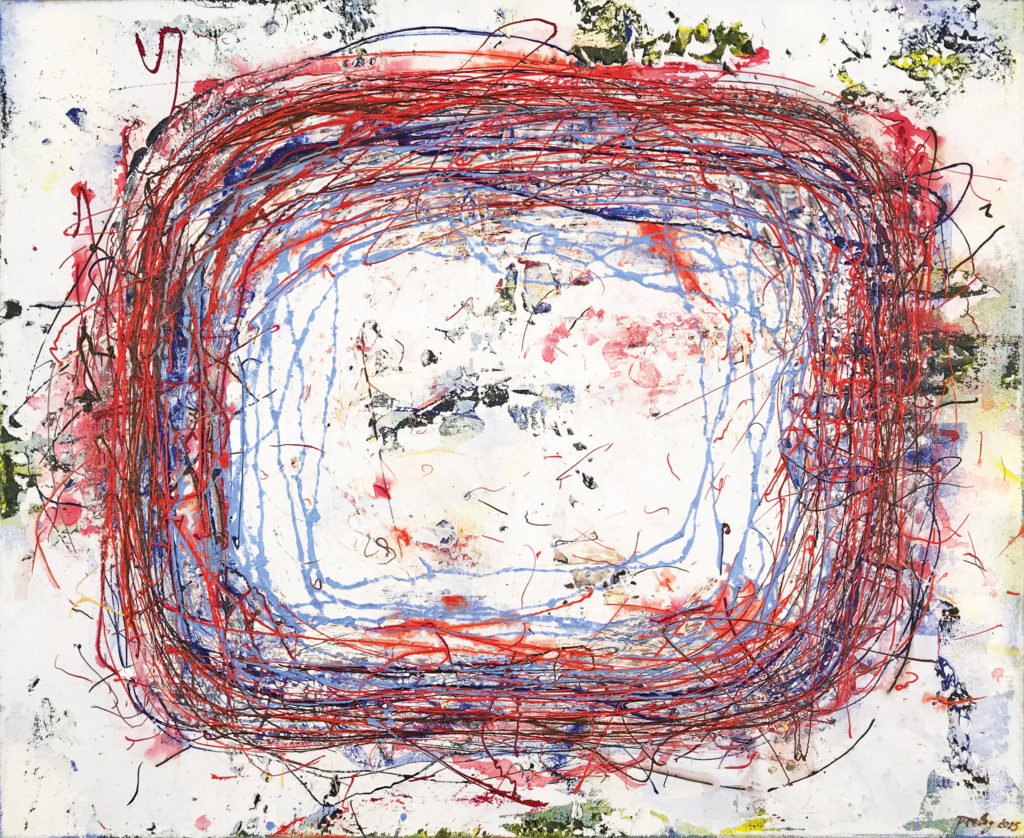 Acrylic on canvas
signed and dated 2015, verso inscribed
90 x 110 cm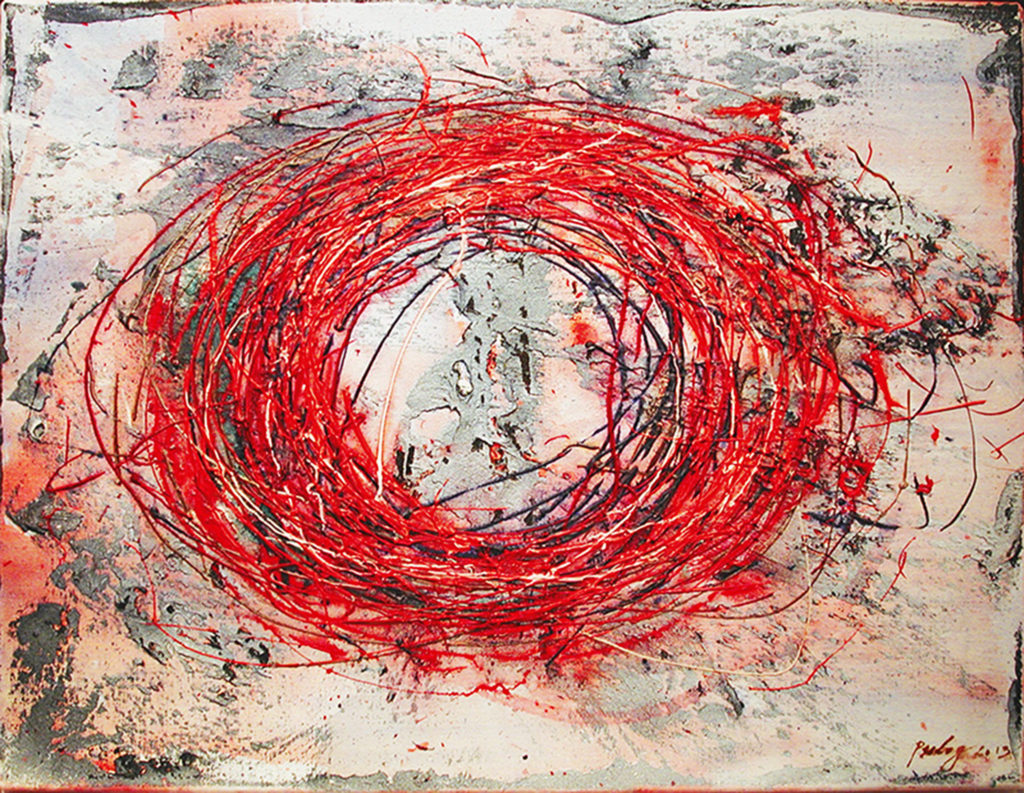 Acrylic on canvas
signed and dated 2013, verso inscribed
50 x 65 cm