For more than 15 years, Adrian Szaal has been an extremely versatile artist, working with a diverse range of materials. He specializes in black light painting in acrylics, for which he uses fluorescent colours in his self-developed "free colour" technique – a particular method of structural pour painting, which he conceived and perfected over many years of creative practice. In the artist's words: "Nothing is as it appears; everything can change in just a matter of seconds."

Adrian Szaal's approach is very experimental. Studying his work reveals a successful symbiosis of abstract and figural art. His paintings stand out for their expressive, gestural application of paint and eye-catching compositions. "Looking at a white canvas, I can already see the finished picture in my mind's eye – I visualize it and use pour painting to bring it to the canvas in the way I imagine." Paintings that may appear abstract at first glance often reveal figural aspects on closer inspection.

Szaal mainly works with acrylic paints on different bases, employing various techniques such as "topic", "slides" (a special trowel technique that concentrates on dynamics, momentum and expression) and "MMP" (mixed material paintings). In his project "Light Painting", pictures are painted with light and then captured on Polaroid and backlight film, with the resulting photos left unedited. This linking of photography and painting creates a sense of tension and singularity.


"Even if Szaal's expressive gestures may sometimes make an association with Art Informel seem more than plausible, closer inspection reveals that his work never completely abandons the figural sphere. Using different bases and tools, chiefly with his self-developed "free colour" technique, and working mainly in acrylics, the artist plays with the specifics of painting and photography as a medium. In this conceptually led process, which pushes the boundaries of both physical and psychological possibility as well as our perceptive abilities, and influences all levels of his work, the medium of light is given a pivotal role: the experience and experiencability of his works change with the situation, as it were, with the act of our viewing them, by dint of the interplay of principles and effects in colour blends that may add or subtract." (Catrin M. Hassa)

Adrian Szaal was born in Vienna in 1986 and has been a freelance artist since 2004. Following a two-year atelier course, he graduated from Professor Christian Ludwig Attersee's painting masterclass. He now lives and works in Lower Austria, and has been invited to attend national and international art symposiums. His works have been exhibited in galleries including the Startgalerie in Leoben, the River Gallery in Bratislava, the exhibition "den Blick öffnen" ("opening the gaze"), and several international art fairs held in Vienna's Künstlerhaus, Palais Ferstel and Palais Niederösterreich. In 2014 and 2015 his works were displayed at Inter Art Berlin, and he had a solo exhibition at Laxenburg Palace every year from 2014 to 2019. He has also taken part in numerous group exhibitions, including at Perchtoldsdorf Palace and other cultural institutions in Lower Austria. For several years, Adrian Szaal also created the "Garden of Dreams", a special outdoor exhibition that formed part of the WIKAM art fair. Using his own sculptures, statues by other artists, and a specially designed light and music installation, he created a unique experience for all the senses. "T-Man in Action" was the title of the 2019 performance in which Szaal captivated his audience at Fair for Art Vienna with a story narrated through music, painting and light.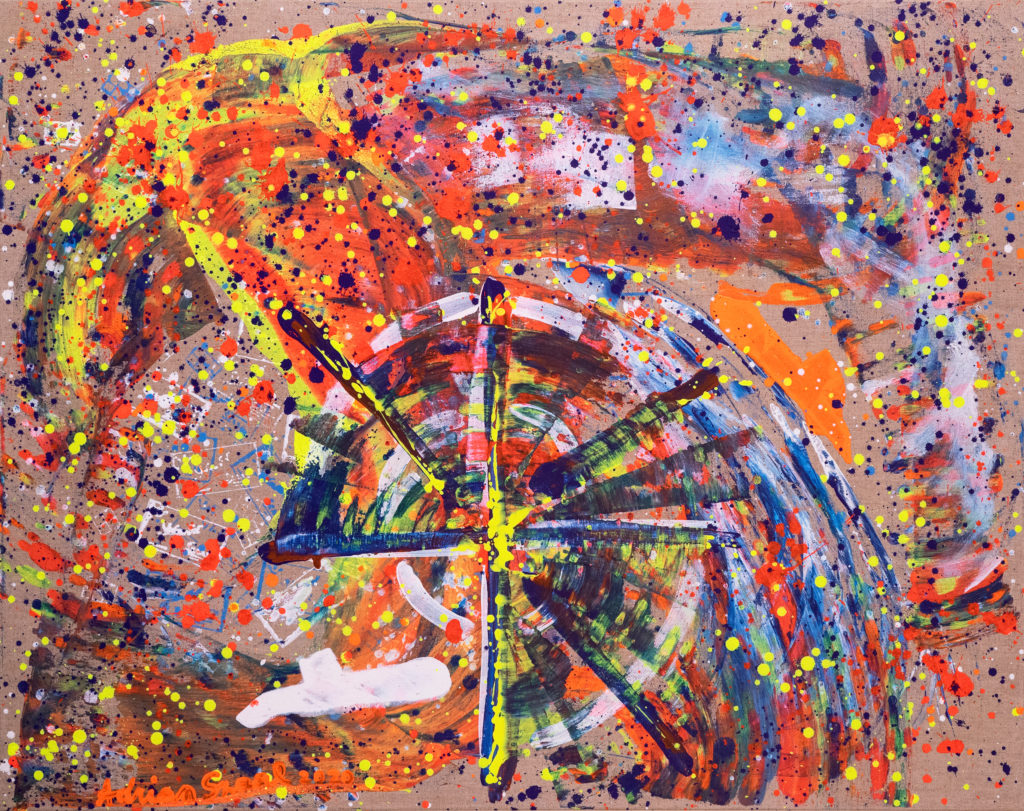 Acrylic on canvas
Real Colour / UV, Topic, 2020
140 x 110 cm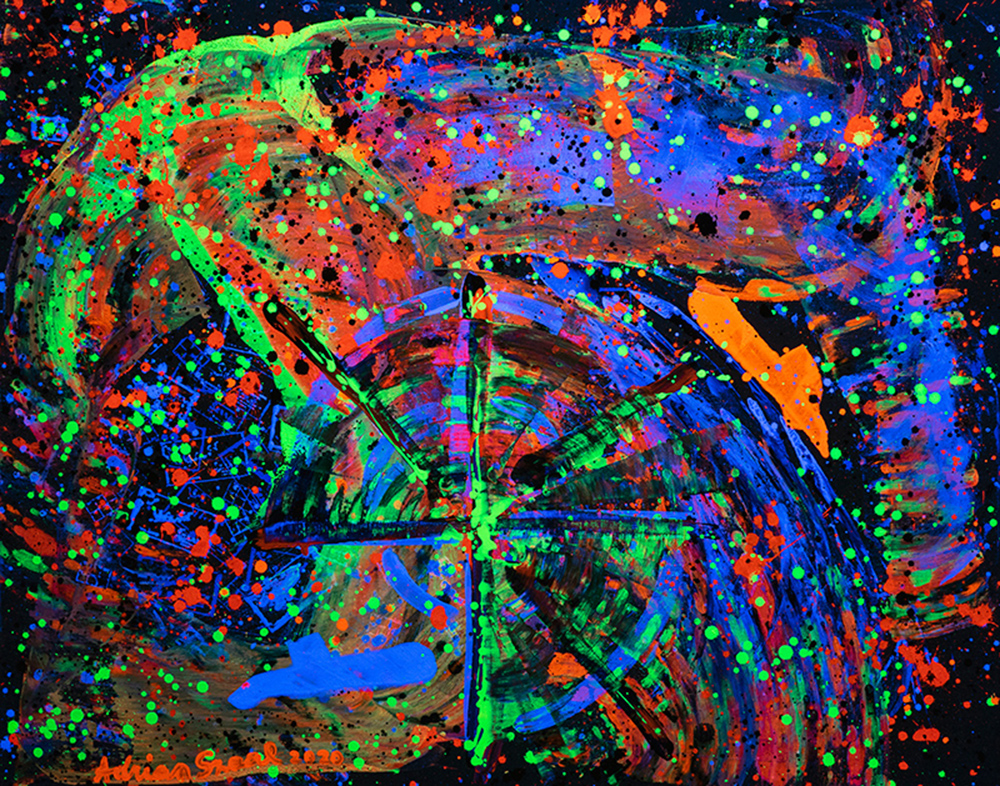 Acrylic on canvas
Real Colour / UV, Topic, 2020
140 x 110 cm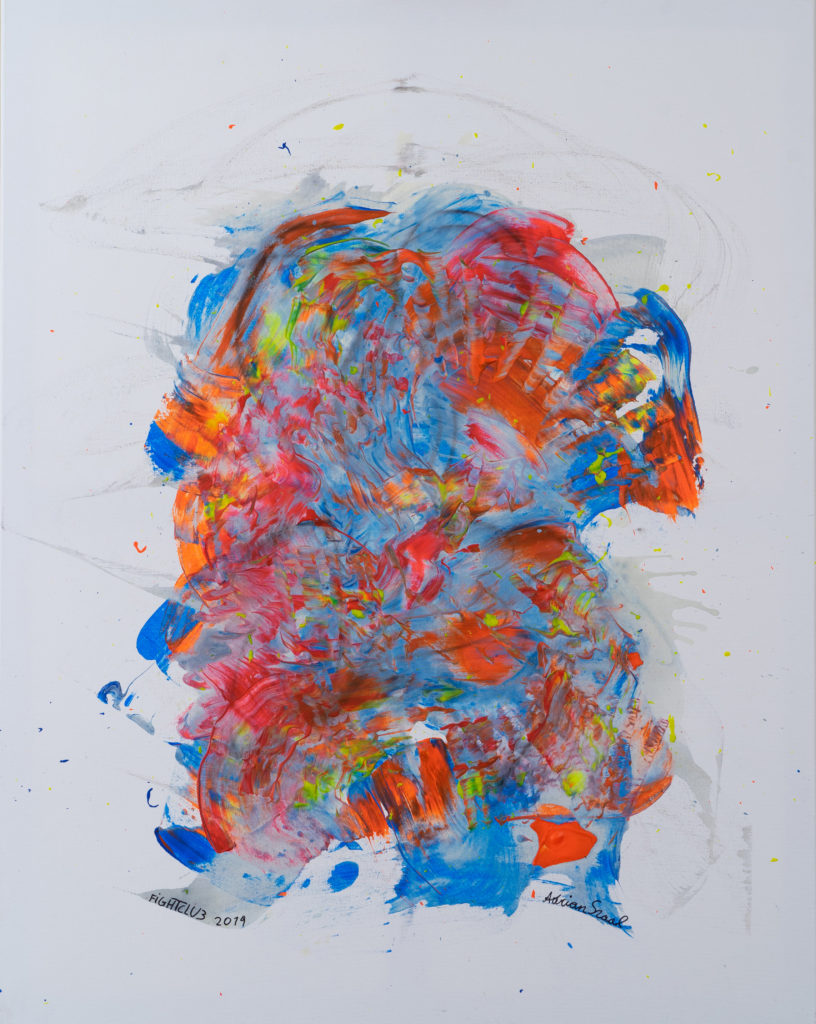 Acrylic on canvas
Colour / UV, 2019
100 x 80 cm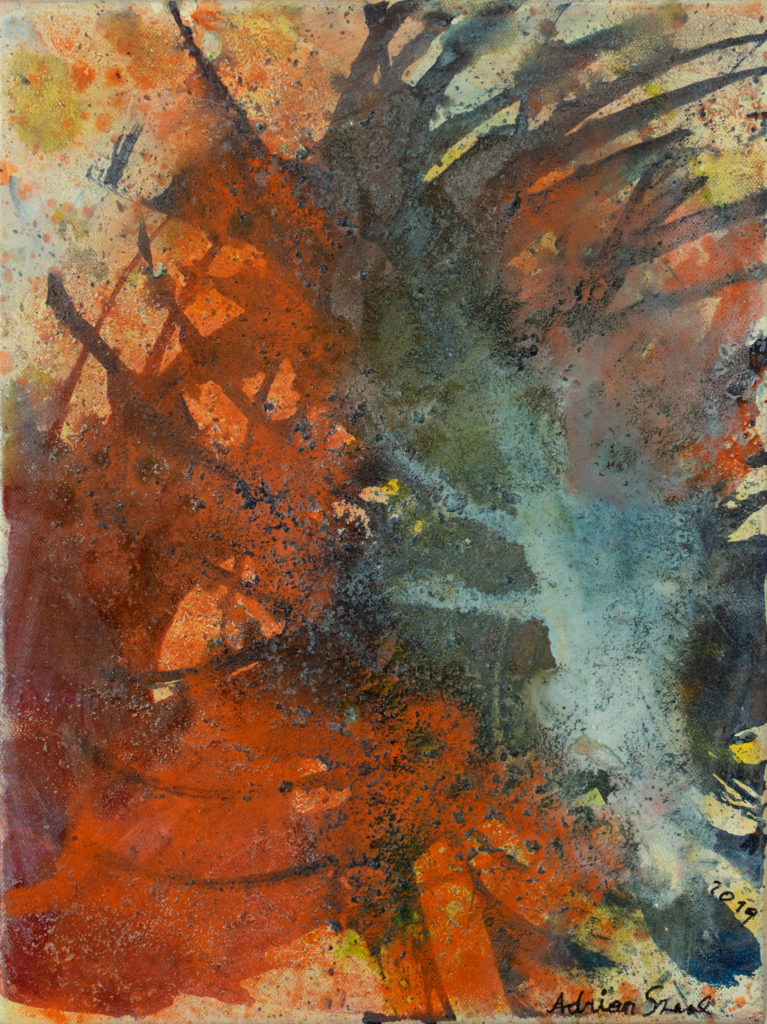 Acrylic on canvas
Real Colour / Start with my art, 2019
40 x 30 cm