From 1950 to 1952, Oskar Höfinger trained as a ceramic-modelling apprentice under sculptor Hans Scheibner at the Rath Ceramics and Fireclay factory in Krummnussbaum. From 1952 to 1956, he attended the Technical College for Woodworking and Stone Carving in Hallein, where he was taught by Rudolf Scherrer. In 1956, he began studying at the Academy of Fine Arts in Vienna. In 1958, Höfinger's gravel-conglomerate figure "Jüngling" ("Young Man") saw him accepted into Fritz Wotruba's masterclass, which he attended until 1961. Here he would develop his future-oriented mind, despite the fact that his role models used the past as the basis for their artistic creations. A new classicism had developed in sculpture, with Wotruba leading the way as a sculptor who increasingly allowed abstract geometry to flow into his work in place of figural components. Many of his students followed suit, finding their own personal modes of expression, including Oskar Höfinger: "… he is one of the few students who will leave me behind and go further into abstract," said Wotruba.

The young artist received early recognition in 1955 when the Ministry of Education bought a small pieta from him. Inspired by great artists from the Gothic period and even Michelangelo, he began to work on monumental stone sculptures.
Similar to Cubist paintings, it is surfaces that determine the exterior form of Höfinger's sculptures, which are suggestive of an abrupt pause in movement. Höfinger sees this reduction of his work to smooth surfaces as a form of concentration on what is essential. At the same time, the way light reflects off the surface of his sculptures, continually changing their appearance, references the adaptability of nature. In 1966–67, he began to create figures without bases or plinths in the style of statuary, which allowed them to be viewed from many different angles.

Höfinger also struck out on his own by using new materials: in 1970–71 he made his first chrome, nickel and steel figures, which now grace public spaces across Austria (e.g. "Pflugfeld" ("Plough Field") at Inzersdorf wholesale market, "Handel & Verkehr" ("Trade & Transport") at the Danube Bridge in Krems, "Sturz" ("Fall") at the General Accident Insurance building in Vienna's 20th district, and many more). These "new" materials emphasized the possibilities inherent in multi-perspectivity. Oskar Höfinger has received numerous public commissions and also created works of art for religious institutions. His oeuvre includes altar tables as well as glass windows and woodwork, while his sculpture "Heiligen Restituta" was gifted to the Pope in 1998.

"Der Sieger" ("The Victor"), completed in 1969, is one of Höfinger's most significant works. Constructed from the middle outwards, it can be positioned and viewed from any angle. Depending on how it is displayed, it could be a cheering figure, footballer, high jumper, javelin thrower, and so on. It stood to reason, then, that a three-metre-high copy should be made to celebrate the 1976 Winter Olympics in Innsbruck, and displayed in Admont (Styria). The sculpture's human energy seems to radiate outwards, a figure that consumes the space around it and conveys a great sense of confidence and inner balance.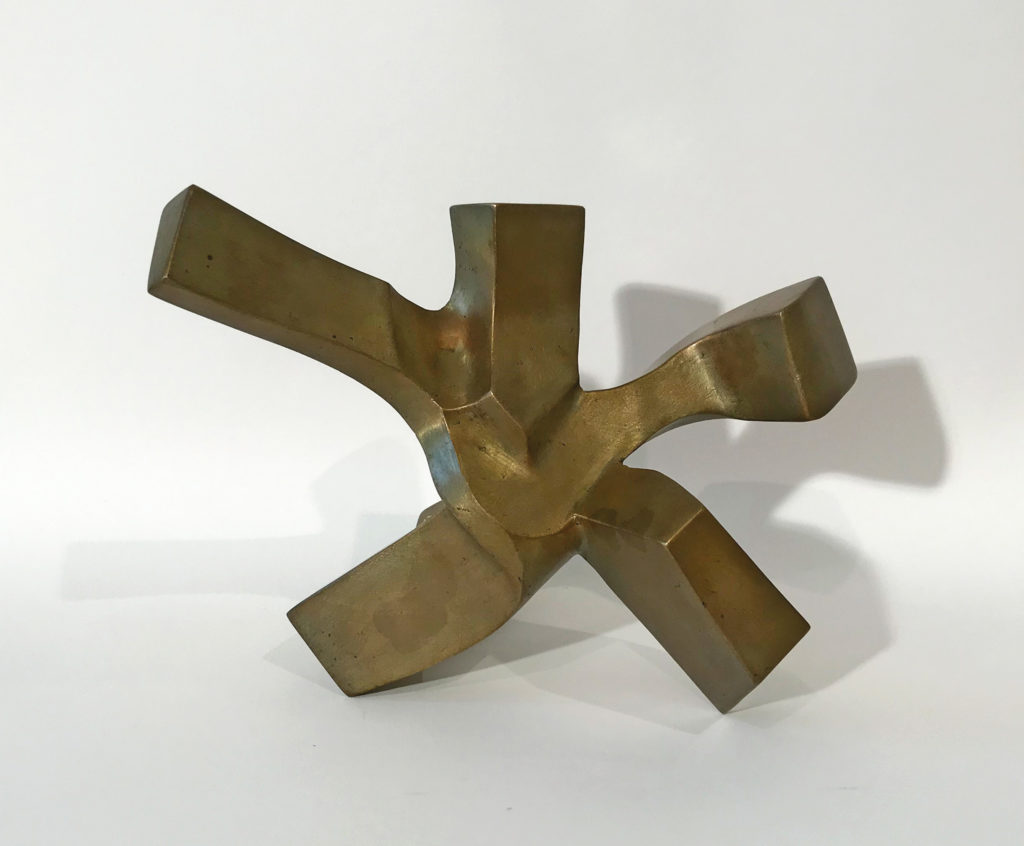 Bronze, 1969
15 x 15 x 15 cm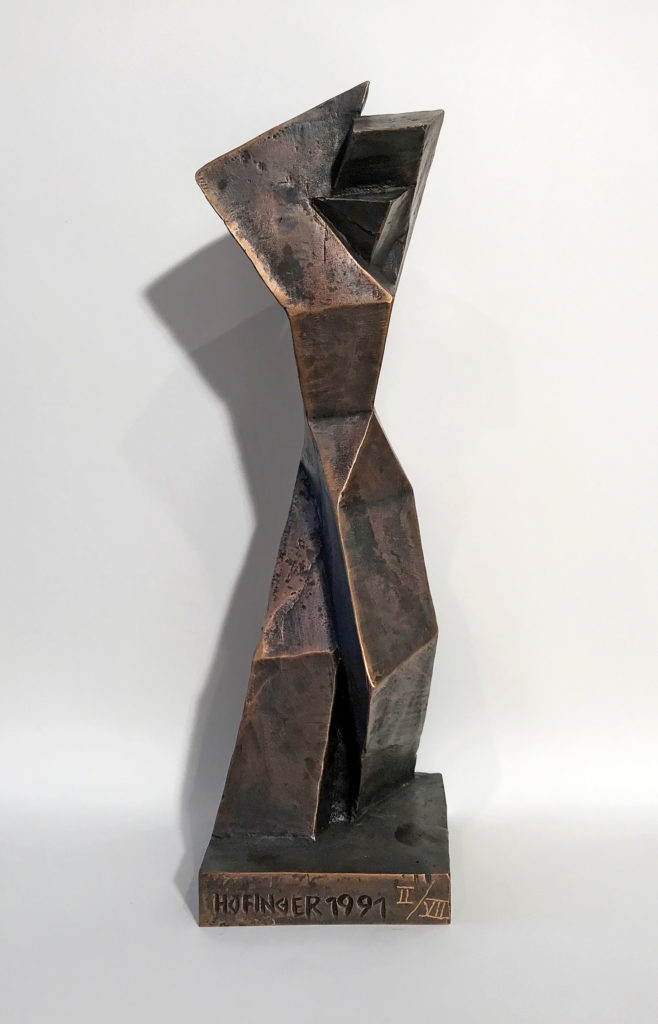 Bronze, signed and dated 1991, 2/7
H: 37 cm, B: 11 cm, T: 11,5 cm