Innsbruck 1932 – 2011 Vienna
Markus Prachensky was the son of architect and painter Wilhelm Nicolaus Prachensky. In 1952 he moved from Innsbruck to Vienna, where he studied architecture and (from 1953) painting at the Academy of Fine Arts.

In 1956, Prachensky founded the group "Galerie by St Stephen's" along with Wolfgang Hollegha, Josef Mikl and Arnulf Rainer, who came together under the patronage of Viennese priest and art collector Monsignor Otto Mauer, who was the preacher at St Stephen's Cathedral. In 1957 the group's work was displayed in a comprehensive exhibition at the Vienna Secession. From 1983 until his retirement in 2000, Prachensky was a professor at the Academy of Fine Arts in Vienna, and today is regarded as one of the most important representatives of the Austrian avant-garde and Art Informel movements.
Markus Prachensky was a well-travelled painter. Beginning in the mid-1950s, he named his works after the locations in which they were painted, but it wasn't until the 1970s that the titles began to refer to the landscapes which served as sources of inspiration in the aftermath of a trip, and whose essence Prachensky sought to incorporate into his work. From 1967 to 1971 he lived and worked in California. After this, he travelled often in Italy (Apulia, Umbria, Latium, Maremma, Sardinia and Rome). Later, he travelled to the South of France (Provence and Calanques), where he was particularly interested in ancient excavations. Prachensky often spent months engaged with a particular landscape, trying again and again to access its deepest secrets in order to bring it to paper or canvas as the basis for a new work.

Markus Prachensky's painting "alternates between two poles: tectonically closed and tachismically open", as Florian Steiniger writes. Stylistically, his work is characterized by rather architectural-seeming bands of paint, whose ends spill into small splashes of colour. In contrast to Pollock's expansive, woven structures, Prachensky leaves traces of his painting chiefly in the form of broad brushstrokes, which are concentrated and consolidated into impulsive centres of energy.

Over the years, Prachensky's mainly red brushstrokes became an image or symbol of modernity and dynamism, a sign that Austrian painting had liberated itself from stiff old conventions. Yet despite all his action-laden impulsivity, art for Prachensky was always about painting itself, about compact compositions and the vibrato of colours.

"It is only possible to understand Prachensky's paintings if we are willing to view them as a process. It is essential to feel what is happening within them. Otherwise, we miss the very best part of them, and will only admire the way in which streaks of colour and powerful currents seem to fight with and against each other, keeping one another in balance, upsetting and restoring equilibrium. But Prachensky's work is not l'art pour l'art; it is not a game of forms, no matter how dynamically they may be placed on the canvas, rupturing at their junctions" (Dr Klaus Albrecht Schröder).

With his explosive, powerfully gestural style of painting, Markus Prachensky created an unmistakeable medium of expression and cemented his place in Austrian and international art history.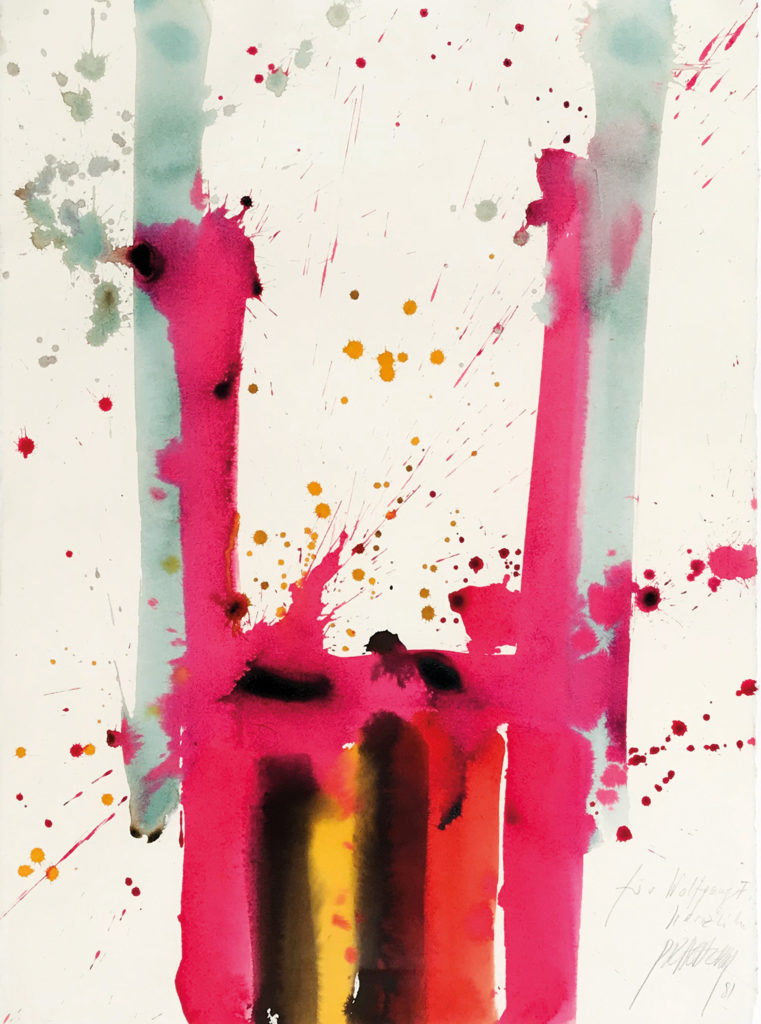 Coloured ink on handmade paper
signed and dated 1981
76 x 56,5 cm