Untertauern 1911 – 1998 Salzburg
Born on 2 July 1911 in Untertauern, painter Lucas Suppin (birth name Lukas) made a major contribution to the breadth of variation in Austrian modernism. His paintings once hung alongside works by Picasso and Matisse; today, Suppin has the status of a classicist. His childhood and youth were spent chiefly in Filzmoos and Dürnberg bei Hallein, he attended his first drawing courses in Salzburg, and from 1931 to 1933 he studied at the University of Applied Arts in Vienna. Following this, from 1933 to 1937, he received a classical education at the Academy of Fine Arts. In 1946, he began exhibiting his works in shows hosted by the Salzburg Art Society. In 1950, he left behind Figurative Expressionism in Austria and travelled to France, where he engaged with the roots of modernism. This step saw him break with traditional painting and move towards what would become a constant search for new forms. From this point onwards, he spelled his first name with a "c", as a symbol of a completely new way of living.

A holiday in Marseille became a two-year sojourn, though he moved seasonally between the Côte d´Azur and Paris. In Marseille, he made the acquaintance of Polish painter Moise Kisling, who introduced him to the circle of artists around Pablo Picasso. Suppin became close friends with the then-representatives of the "École de Paris", including Poliakoff, Manessier, Hartung, Ubac and Soulages, and became part of an art scene vibrating with an intense spirit of optimistic departure from what had gone before, and whose prevailing credo was abstraction.
In 1953, Lucas Suppin chose Saint-Paul de Vence as his new abode and was adopted by the throng of artists living there. Over the years that followed, encounters with Picasso, Léger, Atlan, Prévert, Chagall, Miró, Fautrier and Tzara led to sometimes close friendships and joint exhibitions. In this period, Suppin grappled intensively with French painting traditions, which resulted in a thorough transformation of his own style: at first he created Cubist works, before abandoning representational painting and turning instead to Art Informel. Picasso and Matisse were particularly strong influences in this respect, giving him the impetus he needed to move towards abstract, entirely colour-driven art.

Suppin remained in France for 18 years, before family circumstances brought him back to Salzburg in 1967. In the 1970s he developed a new signature style, focusing on assemblage art, which was conceived as an innovative way of transcending the material. At the beginning of the 1980s he began to concentrate again on intrinsic painterly values, while always exploring new terrain in many different directions.

The artist's later works show the hegemony of vibrant colours and a single-minded interest in the creative process. Suppin transformed the light of the Algerian Sahara, where he spent the winter months, with gestural impetus and a true explosion of colour in further proof of the strength and energy he found in creative self-renewal.

Today, Suppin's works can be found in many renowned museums and collections. In 1950, he received the Prize of the State of Salzburg, and in 1973 was made a professor. In 1985, François Mitterrand gave him the order of a knight of the Legion of Honour. In 2008, a large retrospective held at the Carolino Agusteum Museum in Salzburg and the accompanying monograph finally presented Lucas Suppin's work with the level of recognition he deserves for his enormous importance to Austrian art.
Layered Landscape (on Blue)
Composition With Yellow Triangle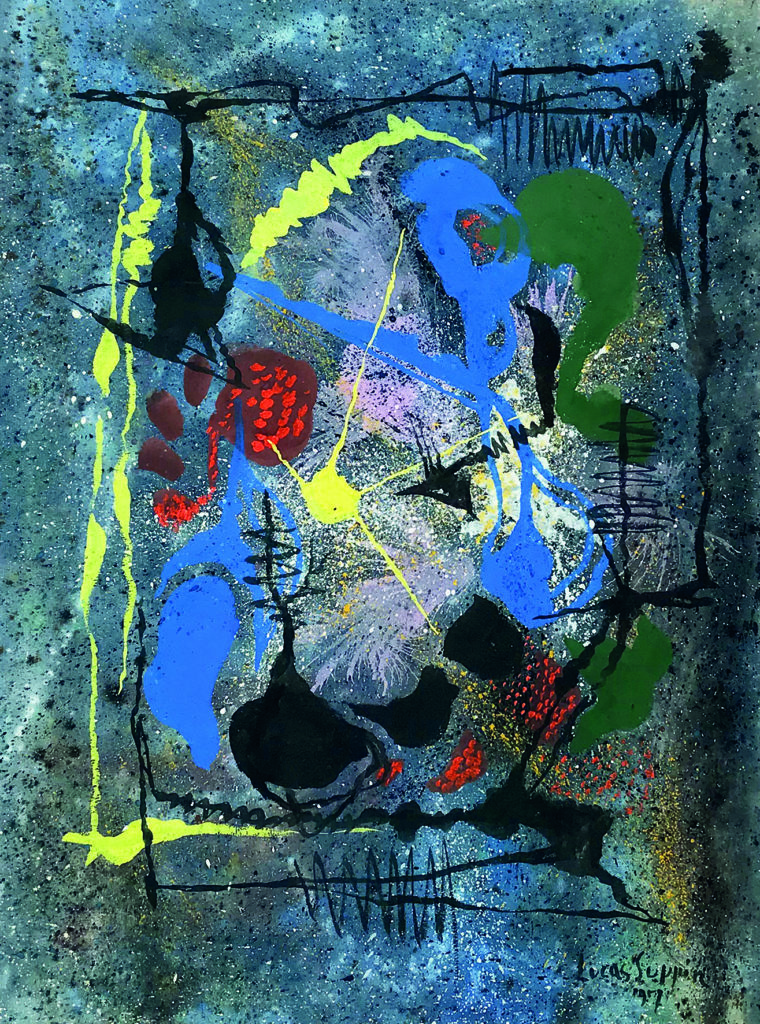 Gouache on paper
signed and dated 1957
59 x 45 cm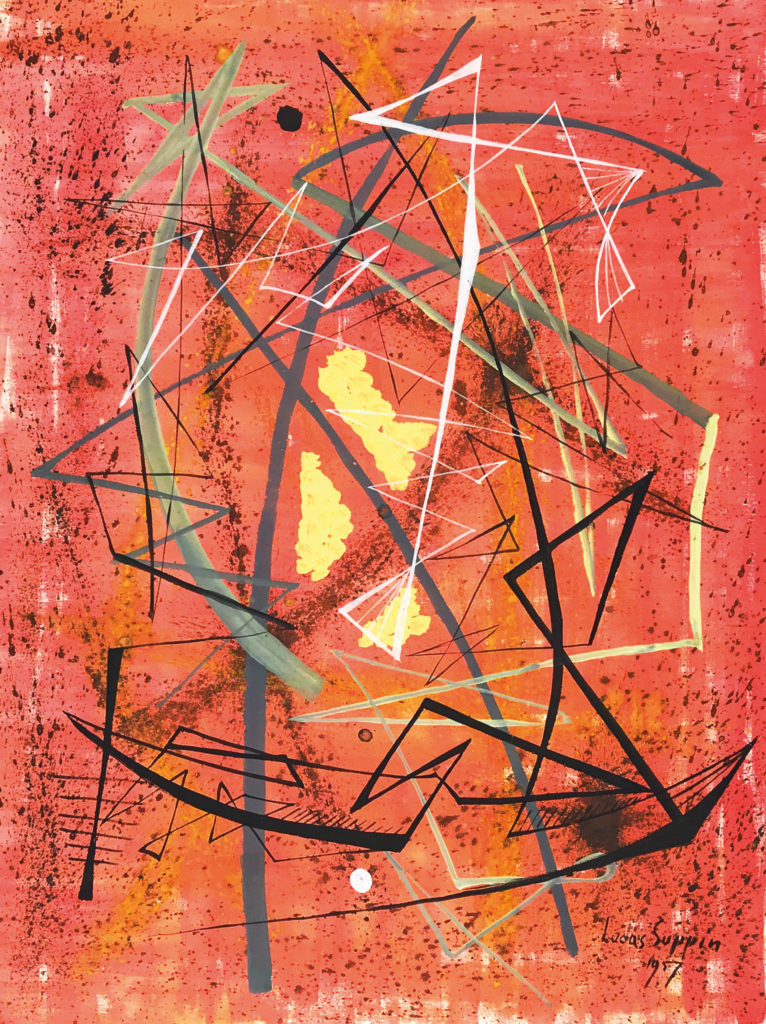 Gouache on paper
signed and dated 1957
62 x 47 cm
Layered Landscape (on Blue)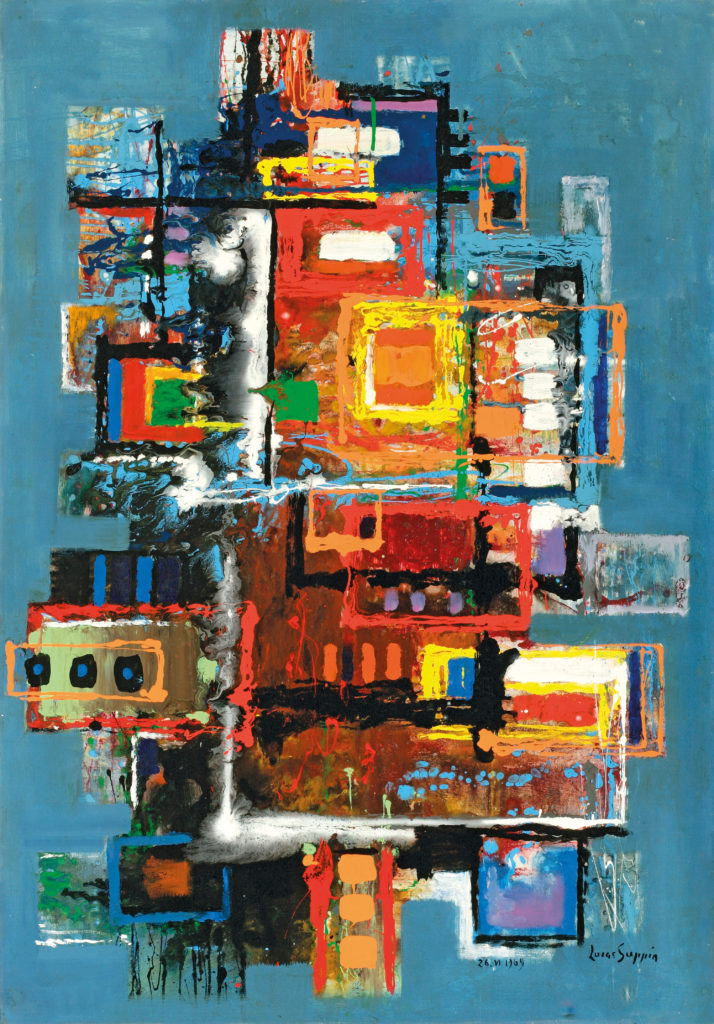 Oil and lacquer paints on panel
signed and dated 26. VI. 1969
100 x 70 cm
Composition With Yellow Triangle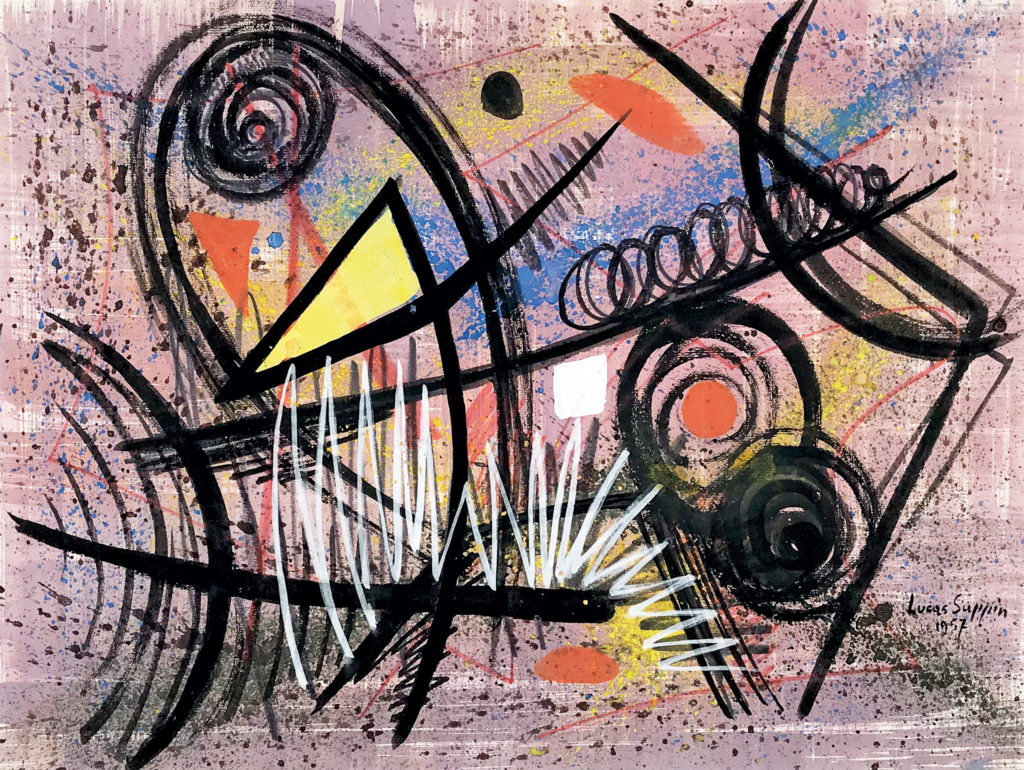 Gouache on paper
signed and dated 1957
47,5 x 63,5 cm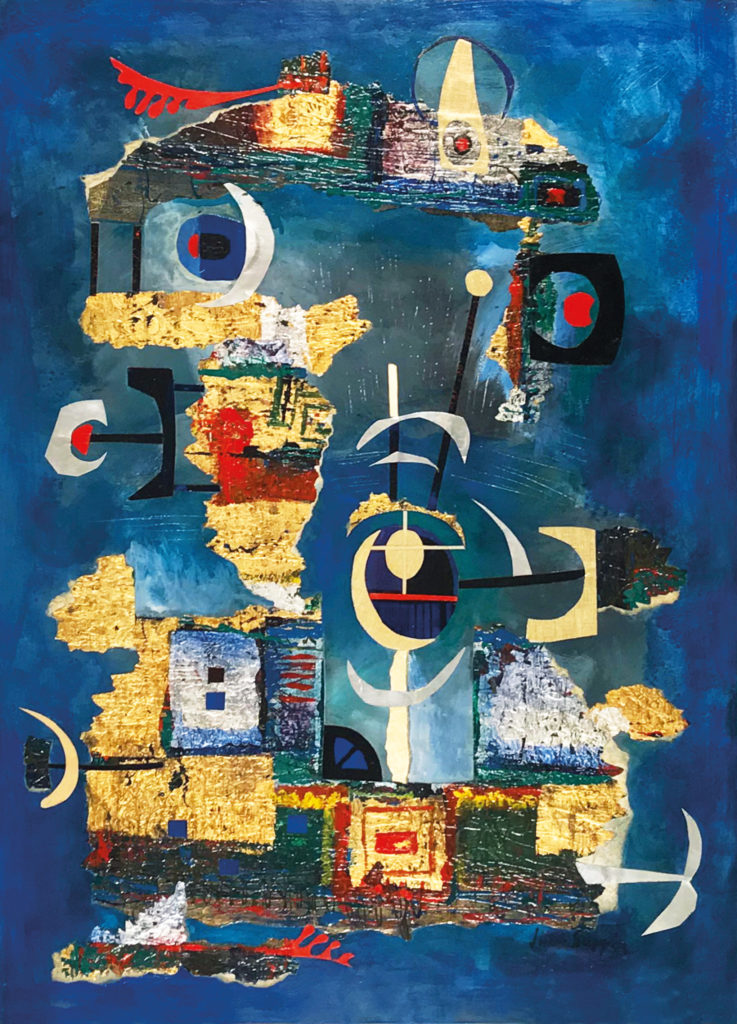 Gold and silver leaf, staniol and coloured paper, oil and gouache on cardboard
signed, around 1966
88 x 62,5 cm