Pressburg 1904 – 2005 Altlengbach
Sculptor Edmund Reitter was a prominent figure in the Austrian art scene from the mid-20th century onwards, as evidenced not just by his regular inclusion in national and international competitions and exhibitions, but also by numerous state commissions and acquisitions by collectors at home and abroad.

Reitter's work is rooted in the tradition of Bratislava sculpture, whose most notable representatives included Viktor Tilgner, Jan Fadrusz and Alois Riegele, artists whose sculptural creations are intrinsically linked to the Austro-Hungarian monarchy of the 19th century. It was Riegele who introduced Reitter to the movement's basic requirements and foundation of knowledge, and he went on to study further at the Technical University in Bratislava (Faculty of Fine Arts). Following this, he completed his education at the art academies in Munich and Vienna.
In Vienna, Reitter made the acquaintance of Fritz Wotruba, who was so impressed by the quality of his young colleague's work that he equipped him with a master studio. Wotruba, the guiding figure for an entire post-war generation of sculptors, also had a visible influence on Reitter's work, in which the human figure was always a focal point. A large and stylistically diverse part of his oeuvre comprises female nudes. As a sculptor, Reitter also engaged intensively with the various art movements and developments of the 20th century, drawing particular inspiration from Expressionism and Cubism, which led him to create increasingly abstract forms.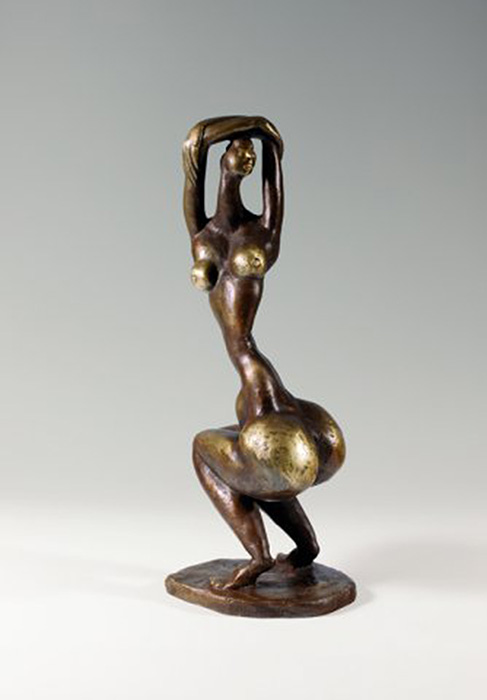 Plaster model around 1950
signed, bronze casting 1/2, 2011
H: 52 cm