Vienna 1921 – 1997 Vienna
Claus Pack's paintings are powerful – they seize hold of the viewer and don't let go. In an article from 2003, Dr Günther Nenning describes the artist's works as "masterpieces of representationalism". Banishing people from art in post-war Austria seemed to Pack to be a crime against humanity. That may sound like a rather conservative opinion. Yet Claus Pack was one of the most important pioneers of modernism, which forced its way into the public consciousness following the Second World War. For Claus Pack, however, Picasso's work was a lynchpin for his own creative practice – not just in the sense of Picasso being a role model, but as a starting point for the artistic and intellectual effort with which he had tasked himself: to develop the spatial perception of Cubism, enhanced by the sensory dimension of colour.

When and how did the relationship between Claus Pack's art and Picasso's work first develop? It began in 1942. Pack had been conscripted to the German army, but was soon hospitalised in Ingolstadt, where his company commander arranged two semesters of study leave in Vienna. Pack initially studied art history, but was soon accepted into Herbert Boeckl's masterclass. In 1945, he re-enrolled with Boeckl, became head of the student body and vigorously championed the exploration of new dimensions in art. Around this time, he first began thinking seriously about Picasso.
The economic situation in post-war Vienna was, however, less than optimistic, so in 1946 Claus Pack and his fiancée, Henriette Wegeler, moved to Feldkirch to live with her parents. Pack would ultimately spend eight years in Feldkirch, a period about which he had mixed feelings. On the one hand, he missed having contact with the Academy and other Viennese artists. On the other, his Feldkirch years were extremely productive. He was able to devote himself wholly and uninterruptedly to his true passion: painting. During this period, he also engaged intensively with Picasso's work. When Pack received a bursary to spend six months in Paris in 1950, he gathered many impressions that strengthened him in pursuing his own path unswervingly.

For him, Picasso's work was the opposite of abstract painting. He thought it the greatest irony of our times that Picasso's paintings had been slandered as deformed and disgraceful, when they should in fact have been seen as the greatest defence of the humanist spirit.

The representationalism that Claus Pack championed his entire life never spun out into realism. He believed that art should be a bridge between reality and transcendence, writing: "Real life only provides impetus and material, but it is through the objects themselves that we are blessed with the sense of a higher world – eternally glowing childhood, paradise …"

Claus Pack was born in Vienna on 31 October 1921 as Karl Nikolaus Pack, the son of Viennese writer Karl Kossak-Raytenau. It is no surprise, then, that he didn't limit himself to a career as a painter. He worked as an author, a critic of art, literature and jazz, and as a lecturer at the international Université de Paris in Saint-Christoph. A charismatic teacher, he worked at the Academy of Fine Arts in Vienna, first as an assistant to Herbert Boeckl, and later as a professor and head of the artistic education institute. In addition, he was instrumental in the summer academies in Salzburg and Bruneck/Brunico.

Claus Pack sold his works in the USA and took part in numerous exhibitions, e.g. "Austrian Art" in Zurich, 1946; the Salon de Mai in Paris, 1949; Munich, 1951; the Art-Club, Konzerthaus and Secession in Vienna, 1952; Galerie Hilscher in Munich, 1953; Galerie Würthle in Vienna, 1964 and 1968, as well as in Salzburg, Vienna and South Tyrol. He was awarded first prize at the Innsbruck International Biennial of the Arts along with Hans Fronius, and later received the Theodor Körner Prize. From 1973 to 1997 he lived between Vienna and Suvereto in Tuscany, where he had bought a house for himself and his second wife, Ilse.

Literature:
Claus Pack (1921 – 1997), text by Günther Wimmer, Vienna 2000
Claus Pack – Arbeiten auf Papier, Galerie Szaal, Vienna 2002
Claus Pack – Was unsere Augen denken, ed. Hans Rochelt, Vienna 1997
Nude in The Purple Armchair
The Girl With The Sunglasses
Lavrentiy Beriya Is Arrested in 1953 in The Central Committee of The CPSU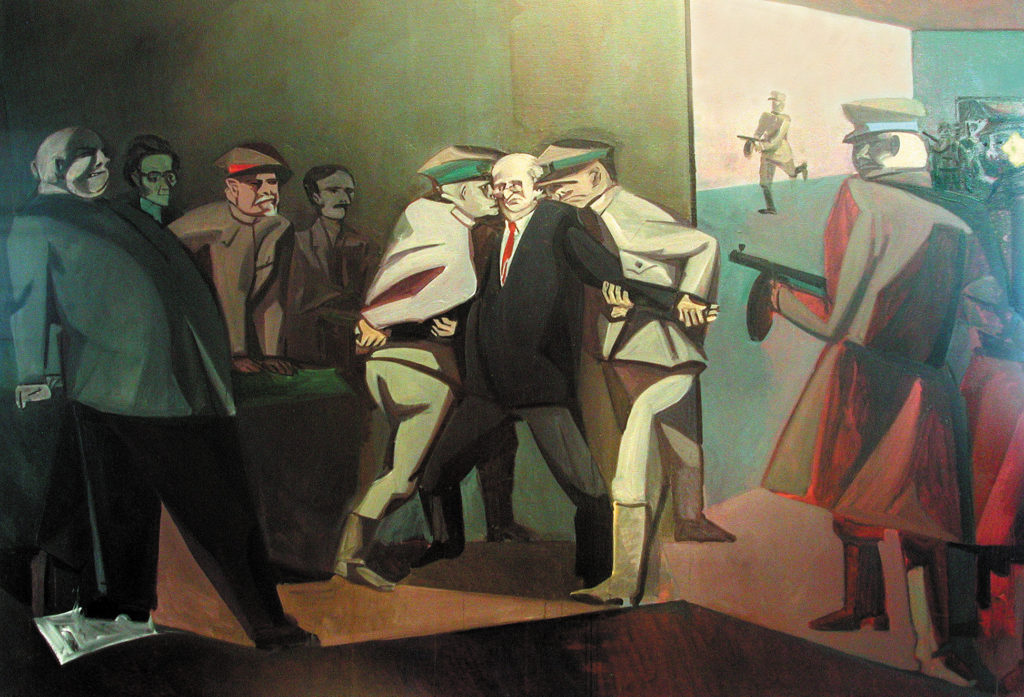 Oil on canvas
verso estate stamp
200 x 300 cm
Lawrentij Berija came from a poor peasant family in north-west Georgia. 
read more…
Nude in The Purple Armchair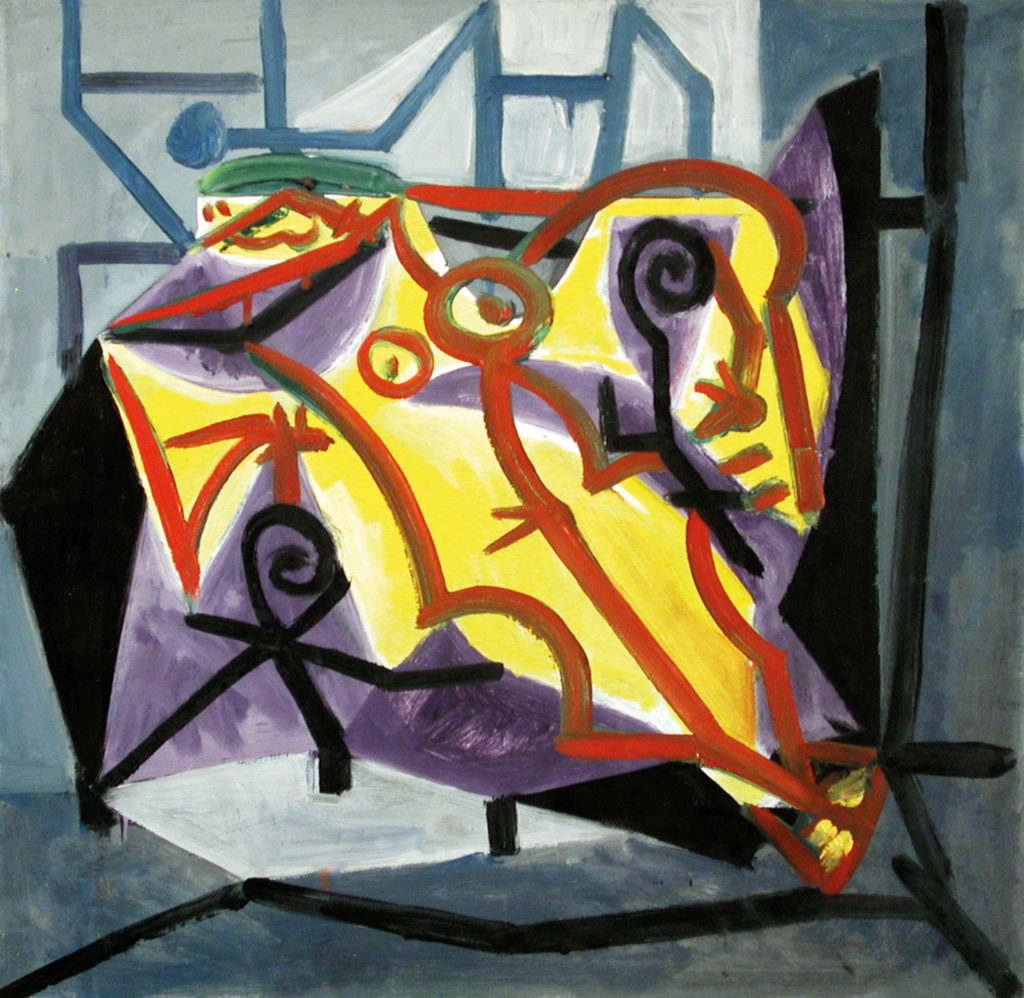 Oil on canvas
verso dated 13. IX. (19)50 and estate stamp
62 x 62 cm
The Girl With The Sunglasses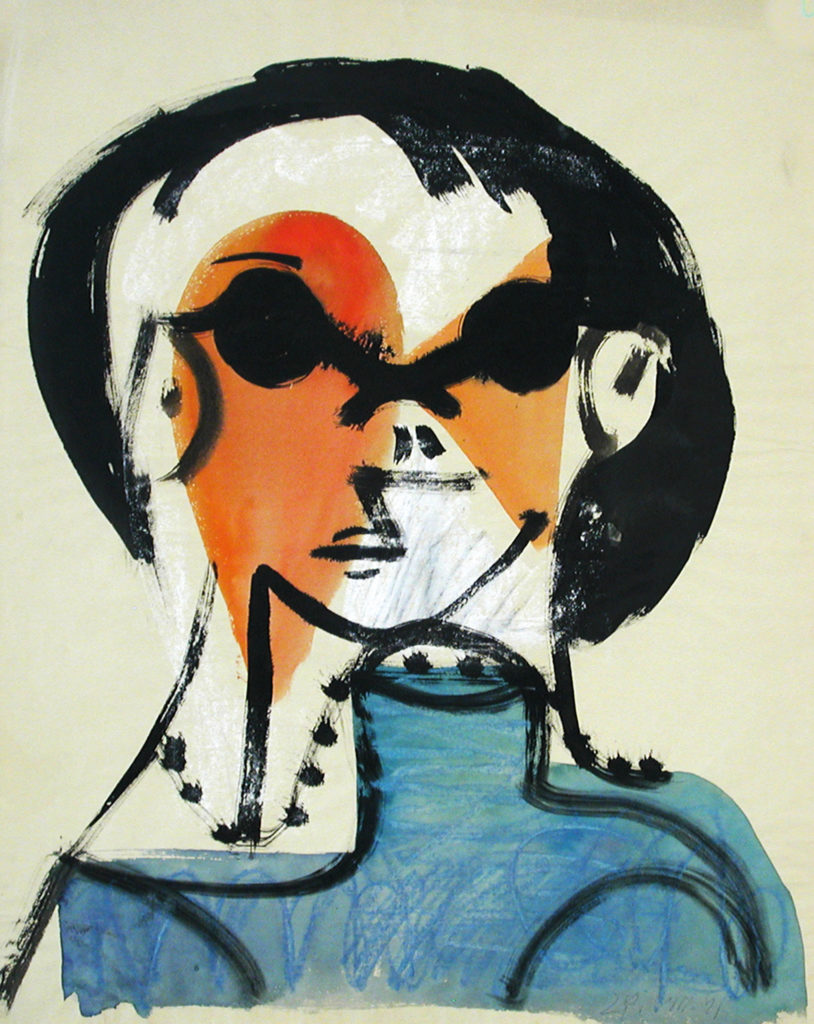 Mixed media on paper
verso estate stamp, 29.3. (19)51
60 x 47 cm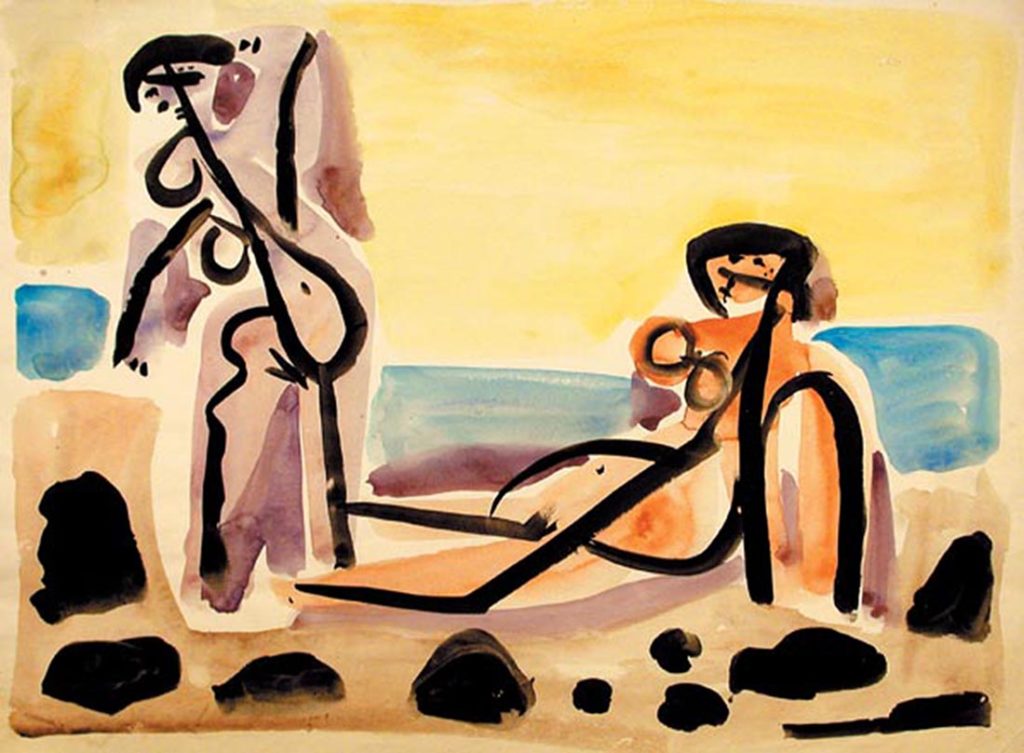 Watercolour and ink on paper
verso estate stamp, 1955
40 x 54 cm


Lavrentiy Beriya Is Arrested in 1953 in The Central Committee of The CPSU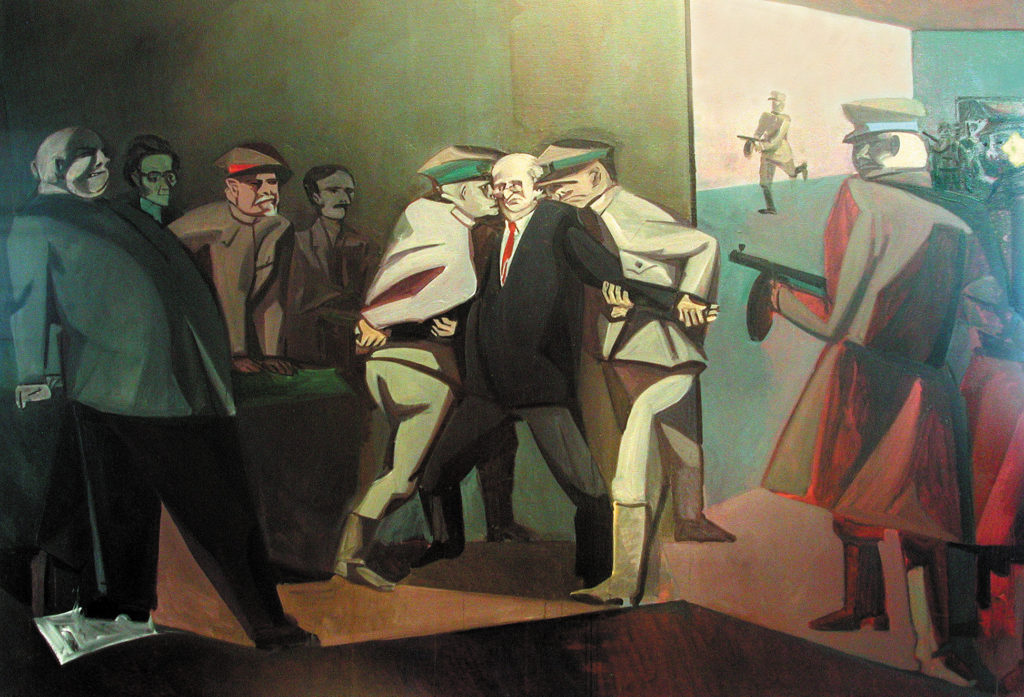 Oil on canvas
verso estate stamp
200 x 300 cm
Lawrentij Berija came from a poor peasant family in north-west Georgia. 
read more…